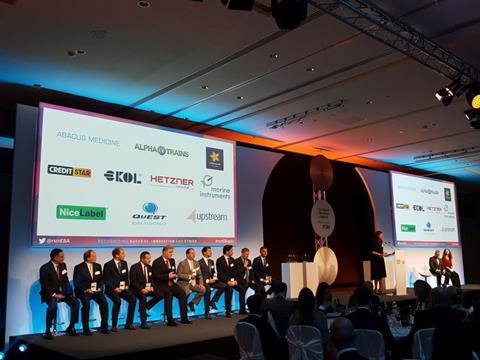 NiceLabel, a leading developer of label and marking productivity software solutions, was selected among the top ten European companies with the most successful growth strategy at the European Business Awards final in Dubrovnik last week.
The European Business Awards, Europe's largest business competition, is set up to celebrate business excellence and best practice in the European business community. 33,000 businesses from 34 countries were engaged in the competition, sponsored by RSM and supported by business leaders, academics and political representatives from across Europe.
Following a year-long journey, an independent judging panel selected 110 best European companies in 11 categories, including The ELITE Awards for Growth strategy of the Year. At the gala final in Dubrovnik on May 4th, NiceLabel was awarded as one of ten Europe's most dynamic and exciting businesses for its active demonstration of the core values of the European Business Awards: success, innovation and ethics, and an international organic growth strategy that has achieved outstanding levels of sales, profit and market share improvement. "These companies are Europe's best. They demonstrate innovation, ethics and financial success and are brilliant examples of the growth potential for European business in a competitive global marketplace. Together they are creating a better future for us all. Huge congratulations to NiceLabel for their success." said Adrian Tripp, CEO of the European Business Awards.
"We are proud to be recognized at this level. The EBA achievement acknowledges our global team's customer focus and commitment to excellence", stressed Matej Kosmrlj, Managing Director of NiceLabel. "It also proves the high value of our next generation label and marking solutions we deliver to our partners and customers to help them grow. We are excited every time we see how our technology solves real business problems."
More info: