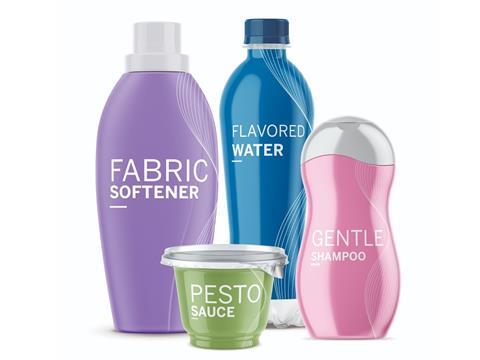 Taghleef Industries launches its new SHAPE360 shrink film range, including an update to its SHAPE360 TDS shrink sleeve label solution, which it claims can improve PET bottle recycling quality.
The company's SHAPE360 TDS is a high TD shrink clear label film that it says can ensure the separation of floatable printed sleeves from rigid PET flakes in recycling streams. According to Taghleef Industries, its solution therefore boosts recycling quality and efficiency for PET bottles.
In addition, the SHAPE360 TDS solution is reportedly compatible with polyolefin sorting streams, which the company claims can result in recoverable all-olefin packages.
The solution is certified as recyclable, having been awarded Interseroh's "Made for Recycling" seal and recognised by the European PET Bottle Platform (EPBP). The company says its solution has been granted further recognition by the Association of Plastic Recyclers (APR) for its recyclability with PET, coloured HDPE, and natural HDPE containers.
According to the company, the SHAPE360 TDS solution has been designed with a "no-label look" that enhances its gloss and transparency properties, while its low density reduces the label's weight. The TDS solution is apparently aimed at maximising product differentiation and brand shelf-appeal by providing a "360-degree billboard" decoration.
The company adds that TDS offers up to 65% shrinkage, which it says can enable a gradual labelling of empty and thin-wall containers with no squeezing risk or air and moisture trapping. The company claims its MD shrink is "negligible" and prevents the "smile effect" at bottle extremities, while it uses Taghleef's natural-based solvents to achieve the film's seaming.
The company states that the versatile qualities of the SHAPE360 TDS label solution means it is suitable for a range of applications and materials, alongside different container shapes and sizes.
The full range of SHAPE360 shrink films is available as part of Taghleef Industires' Dynamic Cycle portfolio. Customers can also access Taghleef's reDESIGN service, which offers tailored packaging solutions.
As part of its commitment to providing dynamic and sustainable labelling solutions, Taghleef Industries have previously partnered with Syntegon and Polifilm to develop a recyclable PP nonmaterial solution with aroma-proof properties that apparently make it ideal for the coffee market.