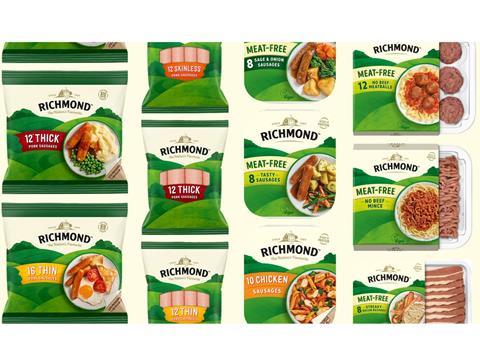 Richmond, part of Pilgrim's Food Masters, has launched its new packaging today, across the brand's product range.
Created by brand identity agency Bloom, the new design incorporates top-down photography, banners to differentiate between products, the Richmond house has more detail and the "Nation's Favourite" wording is included on the pack.
In the past three years, Richmond has developed from its Pork Sausages to Meat-Free products. Having signed the industry-wide Plastic Pact, a commitment to make 100% of packaging reusable, recyclable or compostable by 2025, the new design aims towards the company's sustainability goals.
According to Richmond, 40% of plastic used has been removed from the Fresh Pork range, and the Frozen Pork range has 33% less packaging, saving more than 42 tonnes of plastic annually. The company says recyclable top-film has replaced existing lidded film in the Chicken range, making the product 100% recyclable from kerbside. In addition, the 'peel and reseal' function aims to retain freshness and contribute to reducing food waste.
"We are thrilled to show off this new packaging for Richmond; the first strategic redesign we've undertaken in more than five years," said Chris Doe, marketing controller for Pilgrim's Food Masters. "We've also taken the opportunity to make our packaging more sustainable, ensuring this refresh matches our goals as a business."
The updated design has been added to Richmond's online visuals, with new optimised renders for e-commerce allowing consumers to access the range online.