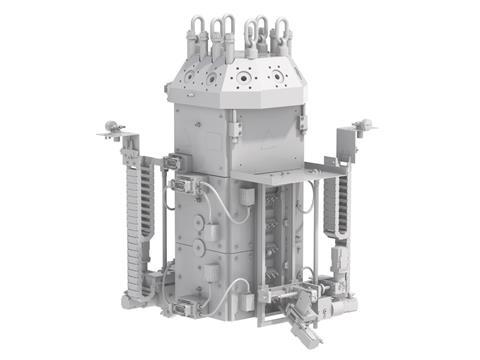 Reifenhäuser has presented its new Precise, Autonomous, Mechatronic (PAM) automation option for coextrusion adapters and slot dies in flat film and sheet production and extrusion coating, thought to improve the cost and efficiency of the processes.
The new technology is set to relieve operators of various individual operations when working on extrusion lines, thus saving time and money. PAM automation allows the coextrusion adapter and die to be adjusted automatically and through mechatronics via the line's operating panel, which is thought to be faster than expansion bolt automation or control by hand. In turn, it apparently enables faster start-up of production and higher output, as well as improving overall equipment efficiency.
Furthermore, the process is said to reduce material usage and scrap, and the ability to store and recall recipes that have been set once theoretically allows for exact reproduction, no matter the skill level of the line operator. The stored setting parameters are also expected to increase security for customers and safety for operators.
The Pro coextrusion adaptor claims to be the only coextrusion system on the market that allows for the profiling of individual layers while the line is running. Supposedly, its profilers can be flexibly controlled, either individually or together, via a central adjustment while the machine is operating.
"The PAM option goes one step further," says Hanna Dornebusch, application engineer at Reifenhäuser Cast Sheet Coating. "PAM automates the setting of the layer distribution and simplifies adjustments and optimizations through integrated recipe management. This is especially worthwhile for manufacturers of films with many layers and many product changes."
The extrusion adapter can be adjusted in a few steps for simple three-layer compounds, Reifenhäuser claims. Further layers would necessitate more adjustments, but the company still predicts that half an hour of changeover time can be saved by using PAM in comparison to manual adjustment.
PAM also facilitates autonomous and mechatronic control and adjustment of the flex lip via the line control system when applied to dies. It allows for autonomous adjustment of the restriction bar, width adjustment, and lip opening through the adjustment of the lower die lip, depending on the die's design.
"With the PAM option, we now offer our customers a highly convenient solution with a fast return on investment," explains Tim Bänsch, die product manager at Reifenhäuser Extrusion Systems. "Compared to dies that are adjusted with thermal expansion bolts, changeover time and energy consumption are significantly reduced."
For example, Reifenhäuser claims that a width changeover with PAM in a cast application with internal width adjustment is 78% faster than with a conventional system, and that, because PAM does not rely on the permanent powering of thermal expansion bolts, it saves energy. For a 3000-mm-wide die, this is reported to save around 130,500 kilowatt hours every year.
However, the company suggests that, while the PAM option is available to coextrusion adapters and dies individually, a combination of the two is where the function is at its strongest.
"We are one of the few machine builders in the market that manufacture everything ourselves - extruder, coextrusion adapter and die," says Tim Bänsch. "Due to this hot part competence within the Reifenhäuser Group, we know the process technology interfaces very well and can design everything accordingly to each other - PAM takes it all to a new level."
PAM can supposedly be applied to Reifenhäuser technology or retrofitted to existing lines of any manufacturer.
Heidelberg took another step forward with automation in September, releasing the Speedmaster SX102 – a printing press reportedly enhanced with artificial intelligence and other automated assistance systems.
Gartner previously identified automation as a key theme in technology-related supply chain advancements in 2022, identifying the role of hyperautomation 2.0 in production processes.
Last year, Piovan S.p.A signed an agreement to acquire IPEG, Inc.'s outstanding shares with the aim of becoming the global leader of industrial automation for the processing of virgin and recycled polymers and bio-resins.