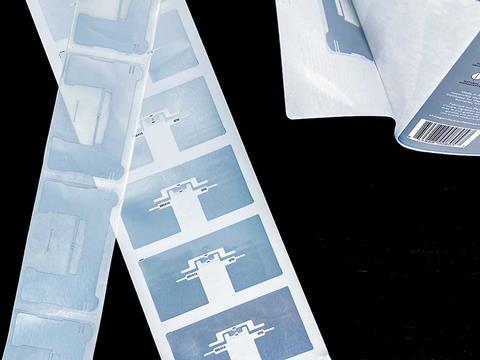 Meyers, a Minnesota-based creator of packaging, labels and retail displays has created a state-of-the-art RFID label offering that it says can improve quality, efficiency, and scalability of RFID label production. This eliminates the challenges most Consumer-Packaged Goods (CPG) brands face with RFID labels around branding and shelf appeal, says the company.
A critical component of this new offering is an advanced RFID label press that embeds labels within existing primary pressure sensitive labels. The company has been producing labels and cards with RFID technology for nearly 20 years, including embedded RFID options that fully comply with Walmart's requirements.
"Throughout my time at Meyers, we've acquired numerous specialty presses," said Dave McConnon, COO at Meyers. "However, this one stands out in the industry because the technology is custom-fitted to what we want to do for CPG brands as they integrate RFID into their prime labels and other types of packaging. It will allow our team to forge new pathways to achieve these goals much more quickly and reliably than before."
The company believes the greatest challenge most CPG brands face with RFID labels is their lack of integration within existing labels, which makes it necessary to purchase separate Ultra High Frequency (UHF) RFID labels. This new RFID label technology eliminates that extra step, saving brands time, money, and improving inventory accuracy, according to Meyers.
It now offers its customers a wide range of RFID label options that best fit their brand, tailoring the labels to match the customer's branding. While Walmart already requires its vendors to use RFID labeling for home goods, sporting goods, electronics, and toys, the health & beauty industry's use of RFID labeling is forecast to grow in the future.
"We often hear from the market that brands are faced with a choice between easy and cheap RFID labels that pollute their branding or the challenge of finding a reliable vendor for expensive custom solutions," said Chris Dillon, CEO of Meyers. "Our new offering creates a cost-effective solution, seamlessly embedding RFID labels into existing prime labels."
Meyers' vision for the future of smart packaging includes unlocking new potential in UHF RFID labels for CPG brands. Through research and innovative technologies, Meyer aims to revolutionize the traditional use of UHF RFID labels, transforming them into powerful tools for these brands to optimize their supply chains, enhance inventory management and enrich customer experiences.
"This technology represents a significant leap forward in terms of quality control and process engineering," said Matt Evers, SVP of business development and quality at Meyers. "In terms of price and timeline, it will streamline the process of delivering exactly what our customers desire."
This article was created in collaboration with AIPIA (the Active and Intelligent Packaging Industry Association). For a full update on active and intelligent packaging, come along to the AIPIA World Congress (co-organized by Packaging Europe) in Amsterdam on 14-15 November. The only smart packaging event covering the entire technology spectrum, the World Congress is a meeting place for the global active and intelligent packaging industry where brand owners, innovators, and other stakeholders can network and see and discuss the latest trends and innovations. Register to attend here.