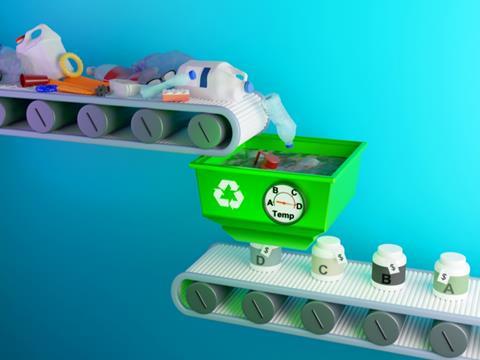 Scientists at the Department of Energy's Oak Ridge National Laboratory (ORNL) have developed a catalytic process that can apparently deconstruct multiple polymers in mixed plastic streams back down to their building blocks – a development set to cut down on energy use, fossil fuel consumption, and carbon emissions, among other benefits.
According to ORNL, almost 90% of mixed consumer plastics are buried in landfills or incinerated at commercial facilities, regardless of whether they enter waste or recycling streams. This is attributed to the cheaper alternative of making new plastics rather than collecting, sorting, and recycling existing ones.
In response, ORNL has combined chemical design, neutron scattering, and computing to develop a new recycling process.
It utilizes a catalyst to deconstruct multiple polymers in mixed plastics back into monomers. This process is said to take place over approximately two hours and is thought to be the first single catalytic treatment capable of deconstructing PET, polyurethanes, polyamides, and polycarbonates – all of which make up around 30% of global plastic production, the researchers claim.
An analysis published in the scientific journal Materials Horizons suggests that the new catalyst would call for up to 94% less energy input, generate up to 95% fewer greenhouse gases, and reduce fossil fuel consumption by up to 96%. It is set to replace harsh chemicals in polymer deconstruction and provide good selectivity, thermal stability, nonvolatility, and low flammability.
ORNL synthetic polymer chemist and author Tomonori Saito explained: "Our approach involves a tailored synthetic organocatalyst — a compound comprised of small organic molecules that facilitate organic chemical transformations. The organocatalyst can convert batches of mixed plastic waste into valuable monomers for reuse in producing commercial-grade plastics and other valuable materials.
"This exceptionally efficient chemical process can help close the loop for recycling mixed plastics by replacing first-use monomers with recycled monomers.
"Today, nearly all plastics are made from fossil fuels using first-use monomers made by energy-intensive processes. Establishing this kind of closed-loop recycling, if used globally, could reduce annual energy consumption by about 3.5 billion barrels of oil."
ORNL's Spallation Neutron Source has also used small-angle neutron scattering to confirm that waste plastics had been deconstructed into monomers. In this process, neutrons are scattered at small angles to gauge structures at different levels of detail, e.g., nanometres or fractions of a micrometre.
Plastics are deconstructed at different temperatures by the organocatalyst. This enables individual monomers to be sequentially and separately recovered in a reusable form, as PET deconstructs at 180°C, polyamides at 210°C, polyurethanes at 160°C, and polycarbonates at 130°C.
Due to differences in their reactivity, any other plastics, additives, and associated materials like cotton and plastic bags are left intact and can also be recovered through this process.
"The deconstructed monomers and the organocatalyst are water soluble, so we can transfer them into water, where any impurities such as pigments can be removed by filtration," said Md Arifuzzaman, the lead author of the study and former postdoctoral synthetic organic chemist at ORNL. "The nearly pure monomers are then extracted, leaving the catalyst, which is almost entirely recovered by evaporating the water and can be directly reused for multiple deconstruction cycles."
It is hoped that bottles, foams, carpets, and other end-of-life plastics – including multicomponent plastics like composites and multilayer packaging – can be recycled through this method, thus tackling the global plastic waste crisis.
The research was supported by the US Department of Energy, Office of Science, Basic Energy Sciences, Materials Sciences and Engineering Division. Researchers from ORNL's Chemical Sciences Division and Center for Nanophase Materials Sciences within the Physical Sciences Directorate, the Neutron Sciences Directorate, and the Department of Chemical Engineering at the University of Virginia, Charlottesville, took part in the study.
Other research has led Brunel University London to uncover two new enzymes that could potentially dissolve plastic bottles faster than current recycling methods and create the raw material to make new ones.
A new scientific publication has also declared Carbios' enzyme for degrading PET the best-performing under industrial conditions. The enzyme is going to be used in depolymerization process at the 'world's first' bio-recycling plant due for commissioning in 2025.
If you liked this article, you might also enjoy:
The L'Oréal approach to packaging sustainability
What steps is Apple taking to make its packaging more sustainable?
How did Brazil achieve its 100% aluminium can recycling rate – and can it be replicated in the EU?
Experts have their say on the EU's Packaging and Packaging Waste Directive revisions
Also, if you're interested in packaging sustainability, you will want to attend our Sustainable Packaging Summit in Amsterdam on 14-15 November. The Summit brings together leaders and pioneers from across the industry to align strategically, learn, network, and create a critical mass to accelerate change. You can learn more by clicking here, and you can buy a ticket to attend here.