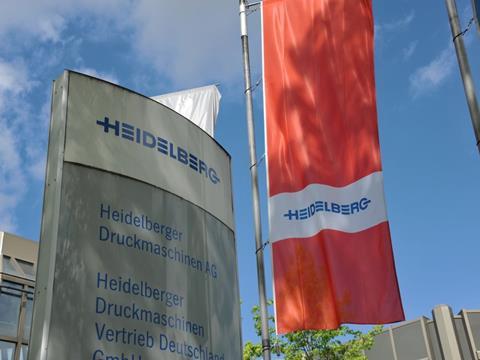 Heidelberger Druckmaschinen AG says it will commit to becoming climate neutral by 2030 and establishes an Environmental Social Governance (ESG) panel to define and develop its sustainability strategy.
The panel will be headed by Dr. Eva Boll, who will report directly to Heidelberger's CEO, Rainer Hundsdörfer.
Hundsdörfer comments: "Heidelberg is well aware of its responsibilities regarding the dangers posed by global climate change and affirms the 1.5-degree target of the Paris Agreement.
"For many years, we have been actively working to gradually minimize harmful emissions and reduce the health and environmental impact of our sites.
"We have now made a further commitment to ensuring our worldwide production and distribution sites are operating on a climate-neutral basis by 2030, which is earlier than required by legislation."
According to the company, it is already taking measures to meet this target, starting with a focus on increasing energy efficiency at all production and distribution sites, which it claims will be supplied with green energy. This will reportedly lead to a reduction in CO2 emissions.
The company will then allegedly use emissions certificates to offset any so-called unavoidable emissions. Heidelberg says that it is aiming to achieve complete climate neutrality without the use of emissions certificates by 2040 at the latest.
In the long-term, the company adds that it views sustainability as a balance between the environment, business, and social responsibility – and will apparently be going beyond climate neutrality in its sustainability initiatives. This could involve a range of other measures, including climate strategy, environmentally friendly products, sustainable HR management, compliance, and governance.
Additionally, the company says that it intends to "anchor" human rights issues and environmental considerations throughout the value chain.
Dr. Boll concludes: "Heidelberg takes a holistic view of sustainability management and factors in all aspects, such as climate and environmental protection with regard to the production and use of its products, and social criteria.
"Over the coming weeks and months, we will be continuing to work step by step on the catalogue of criteria and planned measures.
"By the end of the current financial year, we will create a road map with interim targets for the years ahead. The environment, cost-efficiency, and social responsibility will all go hand in hand."
Heidelberg joins a number of other companies in making renewed sustainability pledges. For example, P&G and PepsiCo have both committed to net zero emissions by 2040, while Unilever is aiming for the same goal by 2039.