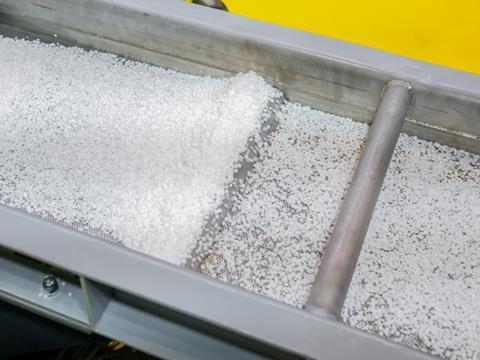 The Reborn group says that it is set to launch France's first film de-inking line for polyethylene (PE) films at its site in Ogeu-les-Bains.
With its new de-inking line, Reborn will seek to address the challenge of printing inks in the plastic film recycling process. Printing inks can disrupt the manufacture of transparent secondary materials or even result in plastic films being downcycled into products like refuse bags, which prevents the establishment of a circular economy.
Reborn's de-inking line will be called B.Clear and is, according to the company, the third installation of its kind in Europe – as well as the first of its kind in France. Additionally, plans for a second line have been established, likely to be expanded in 2022 at another Reborn site in France.
Using B.Clear technology, Reborn claims that it can recycle 4,00 tonnes of printed PE films annually, based on an estimated collection potential of 100,000 tonnes. Transparent, high value-added secondary material and recycled films – previously impeded by the presence of printing inks – is the intended output of B.Clear, adds Reborn.
Arthur Lepage, chairman of the Reborn Group, comments: "The Reborn Group did not recycle printed plastic films because our customers, mainly from the food and hygiene sectors, wanted transparent products above all."
Currently, Reborn works with companies including Coca-Cola, Lactalis, InBev, Bonduelle, and Unilever.
"As there is a very large pool of printed film, we saw an opportunity," Lepage adds. "However, it was necessary to have specific equipment, which did not exist in France."
The expansion of its Ogeu-les-Bains site to include a specialist technology suitable for the task has involved over five years of research and development, and an investment of €3 million for the installation of the industrial equipment required to de-ink PE films.
According to Lepage: "This is the first machine of its kind to be installed in France and has many advantages: it increases the collection of post-consumer, industrial and commercial waste by 30% and the production of secondary materials.
"This will enable us to reach our target of 35,000 tonnes of recycled plastic film by 2025."
Reborn signed the New Plastics Economy Global Commitment in 2018, working with the Ellen MacArthur Foundation as part of the company's pledge to turn waste into resources. Going forward, the company is planning to become a key supplier of high-quality recycled PE granules to other manufacturers.
While French Government's ban on plastic packaging for fruits and vegetables suggests policymakers and the general public are moving away from single-use plastic, blanket approaches to plastic reduction could also pose a challenge to companies like Reborn.
On a global scale, the shortage of new resins has caused a sharp increase in the price of raw materials in 2021 – another potential obstacle.
Nonetheless, Lepage seems hopeful for the future of recycled PE: "There is a lot of talk about PET plastic bottles and the need for recycling, but the almost identical supply of polyethylene (PE) plastic film, which accounts for 30% of the plastics market, is greatly underestimated.
"There is a very high untapped potential for collection and recycling, especially in industrial services and the commercial sector.
"This is where Reborn comes in: we want to give impetus to a huge market segment that is just waiting to be upcycled."