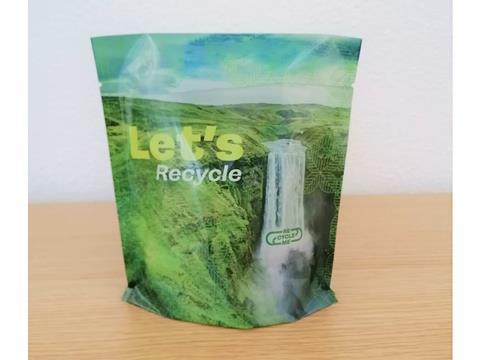 A selection of Dow's solvent-free and water-borne lamination adhesives have reportedly received approval for mechanical recycling from RecyClass and are now expected to contribute an adhesive component to Dow's REVOLOOP technology platform.
The MOR-FREE L 75-300/ CR88-300 and ROBOND L-350/ CR-3 adhesives have apparently been verified for recycling. In examining the recyclability of plastic packaging, RecyClass considers all the necessary criteria for a closed-loop value chain, such as the current sorting and recycling infrastructures available and widely used in Europe.
According to Dow, its partners throughout the value chain can use the RecyClass verification as an effective datapoint from which to design their packaging for recyclability. The adhesives are not expected to impact existing production processes, nor require the retooling of equipment or retraining of staff.
"Sustainability is front and center of our innovation strategy and the main focus for our industry," said Izzat Midani, adhesives marketing manager at Dow Packaging & Specialty Plastics EMEA. "I am very proud that two different technologies in our laminating adhesives portfolio have been approved for mechanical recycling by RecyClass.
"This enables our customers and brand owners to reach a wider scope of applications and performance requirements while facilitating packaging recyclability, which will be crucial as they strive to achieving ambitious sustainability targets."
"The recyclability of laminating adhesives is essential in flexible packaging recycling," added Victor Lebedev, associate scientist for adhesives at Dow Packaging & Specialty Plastics. "At Dow, we have been working intensively to develop internal testing methodologies at our Pack Studios in Tarragona, Spain and Mozzate, Italy, to assess the possibility of recycling laminated mono-material structures and to mimic the commonly used coating weight of the adhesive.
"We are pleased that the independent third-party Recyclability Approval from RecyClass confirms our initial positive results."
"Innovation is key in furthering the circularity of plastics, but at the same time it is essential to ensure that these new packaging technologies comply with existing recycling systems," commented Fabrizio di Gregorio, technical director at Plastics Recyclers Europe. "This is exactly what the RecyClass Recyclability Approval awarded to Dow's technologies proves."
Going forward, Dow plans to add the adhesives into its REVOLOOP technology platform. The Recyclability Approval is also thought to contribute towards Dow's sustainability targets, including its goal to "close the loop by enabling 100% of Dow products sold into packaging applications globally to be reusable or recyclable".
Earlier this year, Avery Dennison and UPM Raflatac were reportedly granted limited compatibility approval by RecyClass for their non-removable adhesive solutions, which were expected to improve the recyclability of HDPE packaging. UPM Raflatac's pressure-sensitive labels later received limited approval to be recycled with polymer containers.
Additionally, RecyClass released a Design Book with the intention of defining recyclability and assisting manufacturers of both rigid and flexible plastics to design for recycling with optimal output quality.