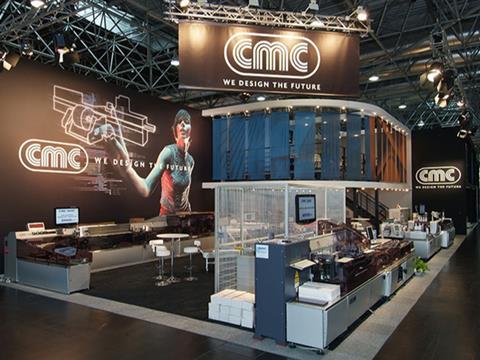 CMC Machinery announced yesterday that Amazon has made a minority investment in the company through its Climate Pledge Fund, which provides funding to companies developing sustainable and decarbonising technologies.
CMC adds that it will continue to be majority-owned by the global investment firm, KKR, which invested in CMC – founded and led by its current president, Giuseppe Ponti, and the Ponti family – through its Global Impact Fund in November 2020.
Amazon's Climate Pledge Fund is a corporate venture capital fund that invests in companies with sustainability-orientated technologies that can aid Amazon's path to meeting The Climate Pledge. Launched in 2020 with an initial investment of US$2 billion, The Climate Pledge involves Amazon's commitment to reach net-zero carbon across its operations by 2040.
Lorenzo Ponti, R&D director at CMC Machinery, comments: "CMC will use Amazon's Climate Pledge Fund investment to continue advancing its strategy, developed with KKR, to further accelerate R&D in sustainability and automation solutions, to expand capacity, to accelerate growth globally and to strengthen the team with key hires in Italy and across Europe."
Kara Hurst, vice president and head of worldwide sustainability at Amazon, adds: "We know our customers want right-sized, recyclable packaging that reduces the use of plastic materials.
"We're proud to invest in CMC Machinery as their technology will help facilitate the transition to a low-carbon economy and support our long-term effort to eliminate additional packaging in the items that we ship."
CMC's Genesys machine won in the 'E-Commerce' category of Packaging Europe's Sustainability Awards 2021. CMC Genesys is a right size auto packer that works with the CMC Patented Vary-Tote system in warehouses to size up the dimensions of an item and ensure its box is then correctly fitted.
By sizing the box according to the dimensions of the item, CMC Genesys eliminates void fill such as plastic pillows or Syrofoam that can have harmful environmental impacts without compromising on protective properties, while also using less corrugated materials compared to standard carton packaging. Additionally, the CMC Patented Vary-Tote technology allows for the automated fulfilment of multi-line orders without pre-reconsolidation, which reduces the need for materials like plastic wrap.
Other innovations from CMC include the CMC Paper-PRO, an auto-bagging system announced in 2020 that automates the fulfilment of single or multi-pack products in cut-to-size, ready-to-ship paper bags, and the CMC Cartonpack also designed for creating exact size boxes using the VaryTote technology, which won in the 'Sustainable Machinery Innovations' category at the Sustainability Awards 2017.