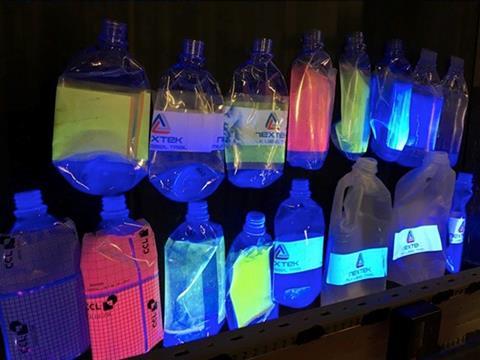 It's no secret that the accurate identification and sorting of plastics is a key part of an efficient recycling infrastructure. But, given the varied range of polymers within that system, this process can quickly become complicated and resource-consuming. Fin Slater spoke to Professor Edward Kosior, founder and Managing Director of Nextek about PRISM – his company's solution to this challenge.
Why is the separation process key to the success of recycling?
Nearly 77,000 tonnes of food-grade plastic that could be re-used if properly separated is currently either going to landfill or the incinerator. Being able to identify what a pack once contained will mean being able to differentiate and capture specific materials and separate food from non-food packaging. To date, food-grade plastic has been the most complex to obtain due to the risks of using second-hand plastics potentially containing toxic chemicals that could be dangerous to human health. It is an EFSA requirement that recycled plastics used for food applications is made from predominantly (e.g. greater than 99%) packaging that was previously used for food-grade products.
In your view, how could this process be improved?
By being able to accurately identify and separate food-grade and non-food-grade polymers of all types such as a bleach bottle and a milk bottle – both of which may be made of the same polymer type.
How does Nextek's solution work?
PRISM (Plastic Packaging Recycling using Intelligent Separation technologies for Materials) is a technology that sorts different kinds of plastics in recycling processes. It uses coded fluorescent labels on plastic packages that can be read by high-speed optical sorting machines.
The process distinguishes between food-grade and non-food-grade polymers. It can also identify black plastics and identify the plastic under full-length shrink-sleeves. It helps efficiently sort out polypropylene or PP packaging for food materials, sleeved PET, and high-density polyethylene or HDPE milk bottles. It is complementary to existing NIR technology. The luminescent materials are developed from compounds that don't use rare earth elements and from materials recovered from fluorescent lamp recycling, and the labels are completely removed during the recycling process.
What makes this solution different from other currently available ones?
Unlike other solutions that are currently available, PRISM only requires one additional printing process for the labels and is complementary to existing NIR (Near Infrared) technology. It can easily be adapted to most sorting facilities around the world to target specific recycling streams such as food contact plastic packaging. Likewise, this is the only solution that functions in complex waste scenarios where packaging is soiled, crumpled or badly damaged.
What was the R&D process that lead up to the invention of this product?
The PRISM sorting system was developed over 6 years of dedicated R&D supported by WRAP, Innovate UK and the PRISM partners developing the comprehensive library of luminescent materials, the coded labels, and the sorting technology.
Is this solution currently being embraced by the packaging value chain?
Following commercial trials, PRISM is now plug & play ready and Nextek expects this technology will rapidly gain traction throughout the recycling and packaging sectors as it offers a unique and efficient solution to the tonnes of potentially valuable plastic packaging going to waste.