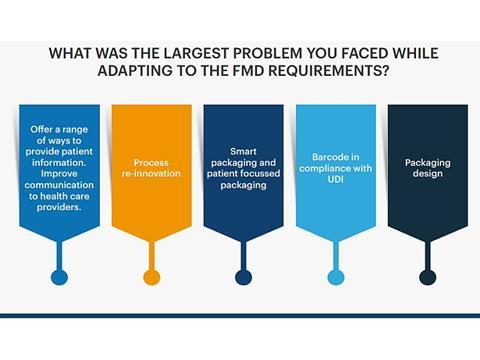 Pack and label experts from the pharmaceutical industry participated in a global survey to identify current trends, and to understand the ongoing effects of the Falsified Medicines Directive (FMD).
The survey yielded interesting results and highlighted challenges with FMD implementation. For example, when asked "How well did you deliver your FMD implementation process, with 1 being not effective and 10 very effective, the average result was a 5.6.
Key challenges included getting the vast data aligned, lack of knowledge using equipment, managing regulatory impact within tight timelines and customer audits and changing requirements. The report furthermore focuses on questions such as 'What packaging solution would be the best fit for a company?' and 'What is the main factor when considering implementing a new packaging solution?'
To learn more about the trends in-person, attend the Pharmaceutical Packaging and Labelling Summit, taking place on 18 – 20 June 2019 in Switzerland. Register now and save up to €700.