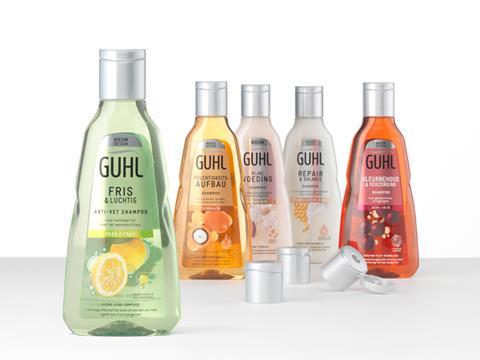 The Japanese personal care manufacturer Kao is introducing rPET bottles for its renowned hair care brand Guhl. These are manufactured by Weener Plastics.
Kao, which has a significant presence in Europe, is famous for its hair care brand Guhl. Earlier this year, Kao relaunched the packaging of Guhl shampoo bottles. These are now made of 50 per cent recycled PET (rPET). According to Kao, this saves more than 770 tons of CO2, over 520,000 litres of water and 180 tons of PET each year. In its Philosophy and Actions on Plastic Packaging, the company states that it strives to reduce the use of plastics in its product packaging.
Relying on WP recycled plastic expertise
Weener Plastics (WP), which has been supplying Guhl bottles for many years, was able to meet Kao's request for a more environmentally friendly bottle. The WP Materials Team found the right type of rPET to meet all of the mechanical and aesthetical specifications, including high transparency of the bottle.
"We wanted to use the highest possible percentage of rPET without having to accept inclusions or colour distortions," states Daniel Nebe, team leader Packaging Development at Kao EURL.
According to WP, extensive tests delivered excellent results. The next step is to start making the Guhl flip-top closure – also produced by WP – from PCR material.