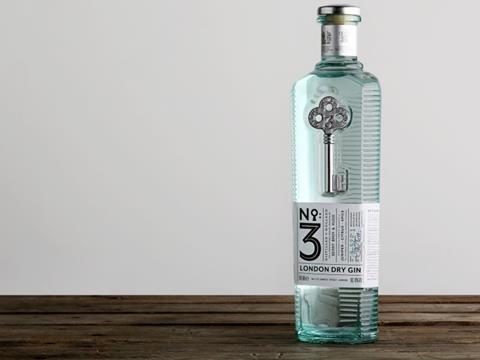 No.3, a London Dry Gin, unveils a new, sophisticated expression of its bottle, as part of a wider campaign rooted in The Art of Perfection.
No.3 has upgraded its bottle and launched a new brand platform to embody a stylish, refreshed positioning that encapsulates the same, flawless liquid inside.
Designed by Stranger & Stranger, the new hexagonal bottle shape reflects each of the six botanicals in the No.3 recipe, and the turquoise colour signifies the refreshing taste delivered by the perfect balance of juniper, citrus and spice. The name and iconic key remain front and centre, proudly reflective of Berry Bros. & Rudd, the brand creator's home at No.3 St James's Street for over 320 years, and personal promise from No.3 that the gin is of exquisite quality.
The clean, crisp, new look for No.3 is accompanied by the introduction of a new brand platform entitled The Art of Perfection – inspired by the distilling artisans behind No.3, who combine passion and precision to create the World's Best Gin. At the heart of the platform is a unique series of striking imagery, which transform the crystal clear liquid into a dramatic landscape of colour. Each visual is created by placing the gin under the microscope and capturing the finer detail through scientific photography. After all, it is the finer detail that separates the exceptional from the acceptable. To launch the new The Art of Perfection platform to trade and consumers, a series of collaborations within the sphere of art and design are planned this year, commencing with a partnership with London Design Festival.
Roy Evans, No.3 Gin Head of Marketing, said: "Our purpose at No.3 is to inspire perfection in all that we do. The new bottle is testament to this; the intricate detail and superior glass beautifully packaging our Gin, which is distilled with incredible precision by our team of experts. We are passionate in our pursuit to offer consumers No.3 as a beacon of undisputed quality within the congested world of gin; gin, just as it should be."
Unburdened by the inessentials, No.3's botanicals stay true to the quintessential style of a London Dry Gin, bringing together the perfect balance of juniper, citrus and spice. This classic London Dry Gin is the perfect choice for a Dry Martini or a deliciously refreshing Gin & Tonic.
After its unveiling at Imbibe Live (stand C150), the new No.3 bottle will be featured at selected accounts, including Artesian, Coral Room, The Savoy and Berry Bros. & Rudd in September, before national release in October. To support the new release across on- and off-trade, there will be an above the line advertising campaign spanning print, digital and out of home media.