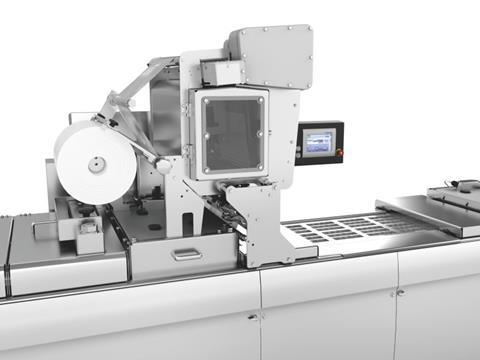 The trend in the medical products industry towards greater individualisation and product variety continues unabated.
At this year's Compamed in Düsseldorf, the focus on the MULTIVAC stand is therefore on flexible solutions for packing medical products in small to medium-sized batches, as well as on the automated infeed of products of all types. The thermoforming packaging machines, traysealers and chamber machines, which will be exhibited, are highly efficient and suitable for producing a very wide range of pack formats.
The exhibits will include a versatile thermoforming packaging machine in the MULTIVAC Clean Design for GMP-compliant packing of sterile medical products. The web advance for the lower web is performed by means of a chain guide on one side, and this ensures that a monitored packaging procedure and simple line clearance are achieved. The monitored web advance also contributes to a low level of start-up loss after batch changes for example. The packaging machine has great flexibility for packing products in a wide range of formats and materials. Fast and reproducible conversion of the machine is achieved through simple quick-change systems for the dies and complete cutting tool.
The thermoforming packaging machine is equipped with an innovative infeed system for the automated loading of syringes. This means that up to 300 pre-filled glass or plastic syringes per minute can be loaded into the pack cavities and monitored with a high level of process reliability. The infeed system consists of a shaft infeed system, a separating wheel, a transport conveyor, a 3-axis robot and a H 242 handling module. All the components of the infeed system are synchronised with the ther-moforming packaging machine, and they can be operated via its control terminal in a convenient and reliable way.
In addition to this, MULTIVAC will also be showing with its R 081 thermoforming packaging machine a compact model for small-scale production and for those companies, which want to launch into automated packaging. The machine can be used for producing both vacuum packs and modified atmosphere packs with reduced residual oxygen content. Flexible and rigid films as well as Tyvek® and paper-based packaging materials can be run with ease. The range of pack formats can be freely configured. The drawer system ensures that format change is fast and simple.
In Düsseldorf the R 081 will be exhibited with the DP 230 direct web printer and the TTO 06, a network-enabled thermal transfer printer of the latest generation. The DP 230, which is fitted in the area of the sealing station, can print the packs in both the longitudinal and cross directions and is therefore suitable for machines with multi-row and multi-track dies.
As regards the traysealer sector, the T 260 will be on view, which was specially developed to meet the high demands of the medical products and pharmaceutical industries. This mobile and compact model is designed for running a wide spectrum of trays, and it offers companies packing small to medium-sized batches a high degree of process reliability, reproducibility and above all flexibility. The sealing die ensures that a controlled sealing pressure and precise temperature distribution are achieved. Critical parameters are monitored permanently by sensors.
MULTIVAC will also be presenting the C 300 TC chamber machine from its wide range of chamber machine products. This model enables sterile medical products to be packed securely in film pouches, and packs can be produced either as vacuum packs or with modified atmosphere and reduced residual oxygen content. A temperature-controlled and permanently heated sealing bar, which can be both validated and calibrated, ensures that this machine achieves reproducible sealing quality. All the above mentioned machines are cleanroom-compatible and of course meet all the legal requirements as well as the GMP, GAMP5 and ISO guidelines.
More info: