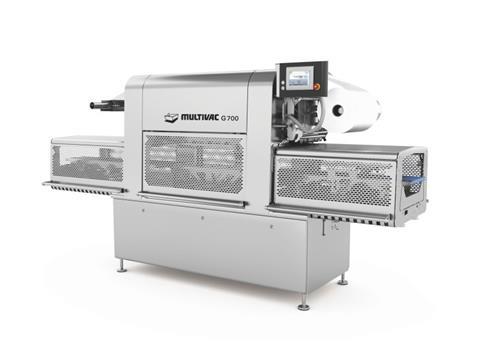 In Hall 3.1 on Stand D-06 at FRUIT LOGISTICA 2018, producers and packers as well as wholesalers and retailers can gather comprehensive information about suitable types of packaging technology to meet their individual needs.
Efficient and economical packaging solutions, which contribute to extending the shelf life of fresh food, are the focal point on the MULTIVAC stand.
Among the exhibits being shown is the G 700, a high-output traysealer for packing ready meals, snacks, vegetables and fresh-cut products of all types. Thanks to the use of innovative gas flushing technology, even delicate products and those with crumbly constituents or those foods, which are hot filled, can be packed gently and reliably under modified atmosphere. The G 700 offers a high degree of flexibility, when it comes to running different tray formats, as well as high output and maximum efficiency.Depending on the product to be packed, the G 700 can produce tray packs with or without modified atmosphere. When packing without modified atmosphere, up to 18 cycles per minute can be achieved, while up to 15 cycles per minute can be reached when packing with modified atmosphere.
At the trade fair the G 700 will be exhibited with a perforator for producing FreshSAFE packs. This enables standard upper web to be perforated during the packaging procedure, so that an equilibrium modified atmosphere (EMAP) is produced within the pack. This means that fruit and vege-tables as well as salads remain fresh for a longer time without the addition of preservatives.
More info: