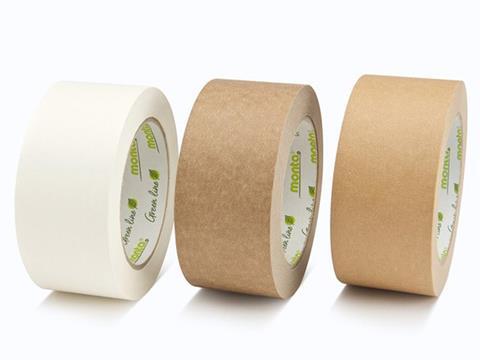 Monta, a manufacturer of packaging and industrial adhesive tapes, has announced a new addition to its Green line range of products.
The new paper adhesive tape is apparently made from 65% renewable resources and is free from synthetic plastics. Further, monta says that the paper carrier originates from sustainable forestry and its natural rubber adhesive from predominantly renewable raw materials.
In terms of functionality, the company says that its new product's technical properties make it suitable for many applications. Thanks to its unique natural rubber adhesive, a single layer of tape reportedly ensures a reliable seal on a great variety of surfaces. The tape can also be torn by hand and is moisture resistant. According to monta, these attributes, combined with its low noise and smooth unwinding properties, make the product a "great ergonomic choice."
The new tape is available in brown and pure white and can be printed with water-based ink.
Regarding functionality, the product is apparently ideal for durable closure of light to medium-heavy cartons, as well as for envelopes, bags, and boxes. It is available in the form of hand, machine, and printer rolls and can be applied with hand and table dispensers and automated packaging machines.
According to a representative from monta: "Other paper tapes use acrylic or hotmelt adhesives which are made from petrochemical raw materials. Our paper tape is free from plastics and silicone. We also offer a variety of products: tape with brown carrier with transparent adhesive, which has a very natural "green" look and is great for sealing cartons where a mono-material packaging solution is sought."