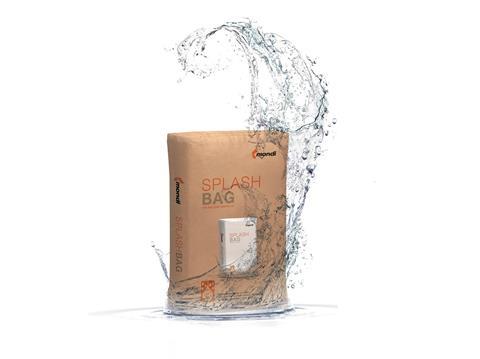 Since its launch in 2015, Mondi's SPLASHBAG has celebrated international success – and it does not stop here: its rain resistance has tripled to up to six hours and it now prevents moisture ingress for up to five days.
"We have introduced a new industry standard here for paper bags to benefit our customers," says Claudio Fedalto, Sales & Marketing Director, Mondi Industrial Bags. "Workers can now store their cement sacks in damp environments for a whole working week without worrying about the materials getting wet."
The new SPLASHBAG with the outer ply of Mondi Advantage Protect sack kraft paper, keeps up with the needs of advanced customers and end users around the world. Already millions of SPLASHBAGs are sold in three continents.
Extensive testing at Mondi's Bag Application Centre has resulted in the performance upgrade. A series of Cobb60 tests was conducted to measure water absorption and the results show a 30% reduction compared to standard sack kraft paper. These improvements offer even lower breakage rates and help logistics and site managers save time and costs thanks to reduced wastage and shorter clean-ups.
"The improved SPLASHBAG provides customers with the necessary tools for market success. Mondi's Industrial Bags customers and suppliers alike can rely upon the company's long-standing expertise in – and passion for – innovative, sustainable and customer-focused paper packaging solutions that guarantee a high level of reliability and quality," says Claudio Fedalto, Sales & Marketing Director, Mondi Industrial Bags.
More info: