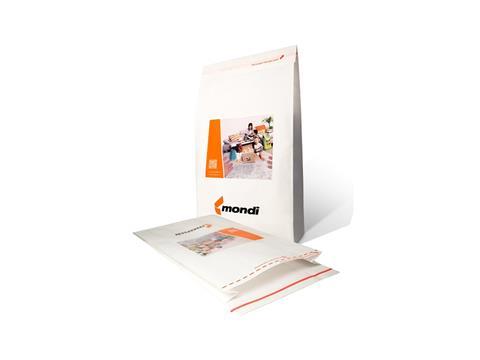 Mondi, the global packaging and paper Group, has won the Eurosac Grand Prix at the 2018 Eurosac Congress for MailerBAG in Malta. A paper bag designed to lower the logistic costs and simplify the shipping process. Eurosac is a trade federation that represents the European multiwall paper sack industry.
Catherine Kerninon, General Delegate of Eurosac, commented, "Our jury chose Mondi's MailerBAG as this year's Grand Prix winner not just because of its innovative characteristics, but also because it is a clever solution for a huge growing market."
MailerBAG is a solution that can take the shape of the packed goods reducing the volume that is being transported and as a result the high logistic costs e-retailers face. Moreover, the paper is a more stable material on the conveyor belts at the logistic centres and needs no time to be prepared and filled.
What makes the bag unique and different than other similar market solutions is its ability to be easily closed and returned, due to its flap with a double adhesive strip with release liners. The first adhesive strip securely closes the package for shipment, and the second can be used to reclose the mailer and send the item back in the same packaging.
Made of one-ply, high-performance sack kraft paper in brown or white, MailerBAG also rates highly on sustainability for its light weight, renewable material, recyclability and reusability. It is available in folded or pinch bottom construction, with or without gusset and a patent is pending.
The Grand Prix 2018 was presented on 25th May to Claudio Fedalto, Sales & Marketing Director, Mondi Industrial Bags, by the president of Eurosac at its annual congress held this year in Malta.
Claudio Fedalto said, "We expect constant fast growth in the e-commerce sector and have been working on specially adapted packaging solutions to meet these trends. With our paper bag, our customers in e-commerce have a highly efficient and sustainable paper mailer for their products – one that will please their own customers with the convenience of fast and easy returns."
Mondi's MailerBAG also offers to our customers the possibility of premium branding – an important advantage in highly competitive markets. Compared to plastic based solutions, the paper bags can be printed with a great variety of colours for more sophisticated graphic designs. Customers also have the option of choosing a laminated outer ply for a luxurious appearance.
More info: