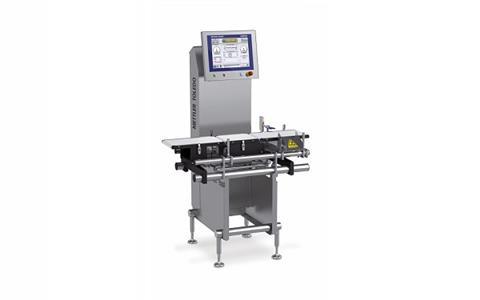 Leading product inspection specialist, Mettler-Toledo Garvens, has launched the new dynamic C Series of checkweighers. The scalable model range is designed to optimise flexibility on production and packaging lines, helping to ensure manufacturers around the world are equipped for the market demands of the future.
"With increasing production speeds, more frequent product changeovers and shrinking packaging sizes, the need for product handling flexibility is greater than ever before," says Markus Schade, Head of Marketing at Mettler-Toledo Garvens. "However, this cannot come at the expense of weighing accuracy. With the global launch of the C Series, manufacturers can benefit from both high-precision checkweighing and optimised adaptability. As a result, they can easily introduce new products to their lines and ensure consistent compliance with international Weights & Measures standards."
The new C Series comprises three main product lines. The turnkey C31 StandardLine has been designed especially for packages weighing up to six kilograms, with a throughput rate of 200 units per minute. It can be combined with metal detection technology to provide checkweighing and foreign body detection in one compact system. It also offers a number of optional features, including water-protected conveyor belts and stable guide rails for fault-free product flow with minimal downtime.
The C33 PlusLine, meanwhile, is capable of weighing packages between seven grams and 7.5 kg, at throughput rates of up to 300 units per minute. In addition to offering optional features, such as encapsulated and highly-resistant conveyor belts for the weighing of sharp granules, the machine can be combined with one of three complementary advanced metal detection systems.
Precise and flexible, the C35 AdvancedLine covers a weighing range from three grams to 10kg, and measures up to 600 units per minute. The system can be customised with a wide range of ejection, transport and conveyor belt options, making it easily adaptable according to manufacturers' individual needs. It can be integrated with metal detection, vision and x-ray inspection technology in a compact and space-saving combination system.
The C Series also boasts the C21 StandardLine and C23 PlusLine model variants for larger products, weighing between 80g and 80kg. Both are capable of throughput rates of up to 200 packs per minute, optimising productivity even on lines processing heavy items.
All models in the C Series are capable of being installed in production lines across a wide range of sectors, and support a diverse range of open communication interfaces and protocols for Industry 4.0 environments. This includes everything, from the RS-232 interface and Gareco, to fieldbus standards such as PROFINET, Ethernet/IP, PROFIBUS DP and DeviceNet and OPC DA/UA for seamless integration and highly automated data exchange. They also allow gapless real-time monitoring of all critical control points (CCPs) to guarantee end-to-end compliance with Hazard Analysis and Critical Control Point (HACCP) and Hazard Analysis and Risk-Based Preventive Controls (HARPC) principles.
In addition, the robust four-tube design of the C Series ensures optimum measuring accuracy by minimising vibrations from the conveyor and surrounding machinery. Meanwhile, the waterproof stainless steel housing and bevelled edges allow for quick and easy cleaning, ensuring compliance with ISO 14-159 hygiene standards and European Hygienic Engineering and Design Group (EHEDG) guidelines. The ergonomic front position of the cabinet of the C33/C31/C23/C21 model variants is mounted in front of the weighing belt to ensure safe access and operation of the multilingual touchscreen. This reduces the risk of potential injury and enhances production security.
More info: