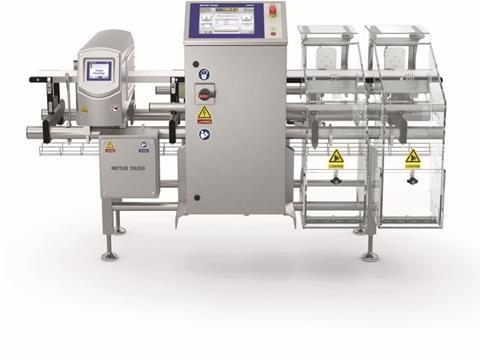 Mettler-Toledo, one of the market leaders in product inspection technology, will be presenting its latest solutions for product inspection, weight checks and analytics for the food industry at Anuga FoodTec 2018 (March 20 to 23, Messe Köln trade fair centre) in Hall 5.2, Booth B018 / A011.
The Mettler-Toledo stand will feature models of production lines for dry, wet, and packaged products, as well as lab and industrial weighing applications. Visitors to the stand will be able to see how companies in the food industry use Mettler-Toledo solutions to increase resource efficiency and gain a competitive advantage. Miriam Krechlok, Head of Marketing at Mettler-Toledo Product Inspection Germany, says, "With solutions for the laboratory, industrial weighing and product inspection, we support the food industry throughout its entire value chain by optimising the safety, productivity and quality of its processes. Trade fair visitors to Anuga FoodTec will be greeted with a comprehensive, diverse and state-of-the-art product portfolio, as well as the presentation of our latest innovations."
Here is an overview of some of the trade fair highlights:
X-ray inspectionOne of the highlights at the Mettler-Toledo trade fair booth is the world premiere of a new X-ray inspection system for applications in food and pharmaceutical production. "Development of the device was based on the tremendous experience we have as one of the leading providers of product inspection solutions used in various applications around the world," says Miriam Krechlok. The system impresses with its superior detection sensitivity, to minimise false rejects, and its high level of flexibility which allows it to adapt to various production environments.
Metal DetectionOn the dry foods production line, Mettler-Toledo will be demonstrating the performance of its free-fall metal detectors with new features: Reduced Test (RT) mode, eDrive™, Auto Test System (ATS) and Virtual Network Computer (VNC).
Visitors to Anuga FoodTec can also expect to see the latest Profile Advantage metal detection system on the Wet Foods production line. Through the use of MFS technology to suppress the product signal at up to 50 percent higher sensitivity in detecting metal foreign objects, impressive results are obtained with wet, hot, chilled or frozen products. The Profile Advantage series makes an impression with up to 50 percent higher detection sensitivity in the detection of metal foreign objects in wet, hot, chilled or frozen products.
Dynamic checkweighersWith the C series in three model ranges, Mettler-Toledo offers dynamic checkweighers for various applications and needs in the food industry.
The C3130 dynamic checkweigher from the C series standard line covers a weighing range of up to 6 kg at a throughput of up to 200 products per minute, and targets manufacturers looking for a solution for the most common standard checkweighing applications. With its IP65 protection class and special conveyor belts that are easy to dismantle, the C3130 checkweigher is very easy to clean, making it the perfect choice for use in the food industry.
The CM33 combination system combines a powerful dynamic C33 PlusLine checkweigher for a weighing range of up to 7.5 kg and a throughput of up to 300 products per minute with the Mettler-Toledo Profile Advantage metal detection technology. The checkweighers in the C33 PlusLine are available in a wide range of equipment options tailored to the various requirements of the food industry. Companies in the food industry can choose between three metal detectors in the CM33 PlusLine, which combine weight checking and foreign object detection, in order to save space with one device.
More info: