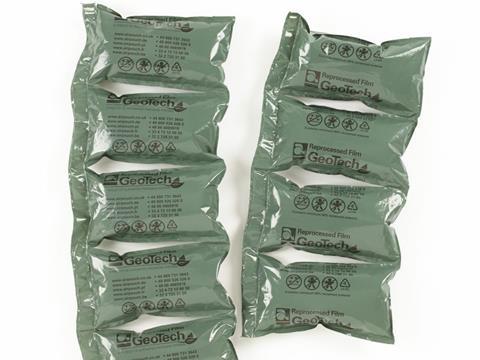 Protective packaging is just one of the many elements that companies must consider to ensure all products are delivered in good working condition.
There are many void-fill packaging products to choose from, including air pillow, loose fill chips or paper, but it is important to remember that many of these packaging options will take up valuable warehouse storage space, and with e-commerce growing around 14 percent throughout Europe year on year, mail order companies are looking to free up space wherever possible.
In comparison to other materials, inflate-on-demand air pillows can be stored uninflated in bulk reducing the required storage space and maximising space for stock at peak retail periods. The material is fed into an AirPouch machine directly from the transit carton and is then inflated ready to be used as void fill. This enables suppliers to store fewer boxes while benefiting from an increase in protective packaging material.
By investing in a packaging solution that optimises storage space, suppliers can prepare for the retail rush and will not miss out on sales opportunities due to a lack of stock or packaging materials.
Increasing efficiency
Although inflate-on-demand air pillows are specially designed to save warehouse space, the material also offers many other benefits.
Consumers now expect a lot more from online retailers and with competition rife, they will often take their business elsewhere if the item they desire is out of stock, but by investing in a high-quality air pillow machine that uses space-saving packaging, mail order companies can deliver solutions faster and meet ever-growing customer expectations while still having enough warehouse space to store increased levels of stock.
Reduced costs
This continued rise in online demand has resulted in a surge of one-off orders that require a quick turnaround, significantly increasing the number of deliveries and causing shipping costs to skyrocket. However, mail order companies can benefit from substantial cost savings if they choose a lightweight protective packaging material that minimises the size and weight of the overall package.
As air pillows are naturally lightweight due to their nature, they provide companies with a cost-effective void-fill solution and, as the machine that inflates the pillows only requires a small footprint, it can be easily integrated into a warehouse to create a stand-alone packing station, fully optimising space.
Environmentally friendly
With consumer expectations growing year on year and the EU enforcing legislation to ensure all plastic packaging is recyclable by 2030, companies are not only being forced to evaluate their packaging logistics, but they now have to consider environmentally-friendly packaging options.
While a large volume of loose chips and paper packaging is required to fill a void, air pillows offer a viable solution. GeoTech air pillows from Automated Packaging Systems are manufactured with up to 95% pre-consumer recycled material and can be recycled again by consumers.
Conclusion
Making simple changes to the packaging materials used can lower costs, improve customer satisfaction and help boost overall productivity. Warehouse space is critical to the success of mail order companies and it is important to review and implement the best packaging system not only to maximise warehouse space, but also to meet rising consumer demand and keep up with fast-growing trends.