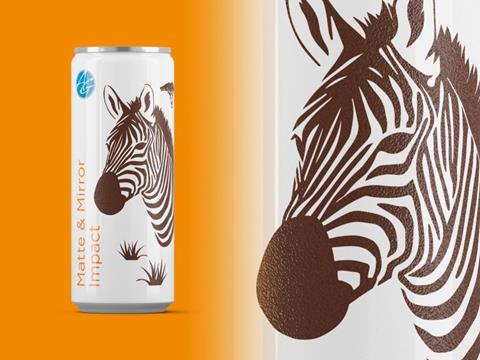 Ardagh Group's latest beverage can finishing, named 'Matte & Mirror Impact,' combines the trending combination of matte and glossy surfaces.
A new ink compound is responsible for creating an eye-catching beverage packaging. This latest addition significantly broadens the company's finishings portfolio. From September 11 to September 15, visitors can get a first glimpse of this novel effect at Ardagh Group's booth in Hall A1, Stand 539 at drinktec in Munich.
Creating diversified surfaces
The new finishing comprises a special admixture that can be used with any printable colour and creates matte effects on the otherwise glossy can surface. During the drying process in can production, the blend creates a surface structure that reflects light differently, thus producing a matte appearance. "Compared to matte-only finishings, where the matte effect is within the overvarnish, the new solution creates a multi-faceted surface through a specialty ink," explains Werner Noll, R&D Manager Beverage Lacquers and Printing at Ardagh Group.
"The market for matte packaging designs keeps expanding, as the food and beverage industries increasingly seek this type of effect. It's easy to achieve with paper or cardboard packaging," Werner Noll stresses. "However, when it comes to metal beverage cans, the matte effect was proved more difficult to replicate, especially in combination with glossy elements. However, thanks to the latest can ink developments, we were able to add this sought-after solution to our portfolio and meet our customers' growing demand for dynamic finishings."
Targeting the premium sector
According to Dirk Schwung, Sales Director at Ardagh Group, 'Matte & Mirror Impact' provides an appealing design option, especially for brands who wants to create value through their packaging design. He says: "The new finishing helps customers to upgrade brand communication. The alternating matte and glossy areas allow specific design elements, such as logos, promotional messages or brand icons, to be easily and effectively highlighted. As a result, the outstanding can design attracts customers' attention at the point of sale." 'Matte & Mirror Impact' capitalises on the popular trend of varying packaging surfaces, while also serving as a vital addition to Ardagh Group's portfolio of powerful visual differentiators.
More info: