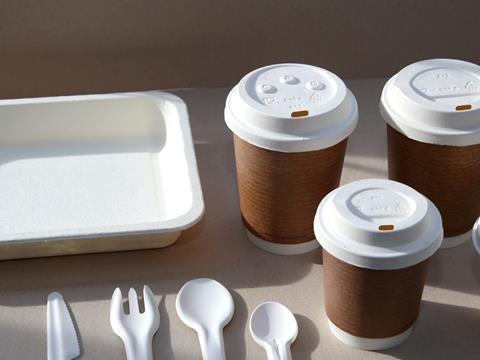 In our latest Innovation Spotlight, Matrix Pack discusses the challenge of the single-use packaging market's constant change driven by macro non-market forces, and the investment it has undertaken in molded-fiber (MF) product technology.
One of the most important pre-Socratic thinkers, Heraclitus, once said that "The Only Thing That Is Constant Is Change". This could not be more true in the case of the Single-use Packaging Market. Globally increasing concerns about the negative environmental effect of plastic waste has led to a significant increase for the demand of fiber-based packaging materials in recent years.
In Europe, single-use plastic item bans and regulations have already been enacted or are being planned or considered, while similar bans or regulations have been implemented or planned in the rest of the world. To that end, fiber-based packaging offers sustainable and transformative solutions for substituting single-use plastic packaging.
At Matrix Pack, we pride ourselves on our robust and innovative approach to regulation, brand-owner need and market challenges, and the ability to adapt to the fast-changing environment of the packaging segments in which we operate. To that aim, Matrix Pack, a leading global producer of eco-friendly packaging solutions, has substantially invested in production assets and infrastructure (from pulpers, thermoforming lines, and other assets, to new buildings) for the manufacturing of high-definition and appearance, smooth-surfaced, molded-fiber packaging product solutions, for hot and cold beverage or other applications.
The production of high-definition molded wood pulp products will be at Matrix Pack's state-of-the-art production facilities in Greece. The launch of its first molded-fiber lid products will take place within 2023, with its converting capacity planned to increase to 1B lids in January of 2024, while it endeavors to become one of the largest producers and suppliers in Europe and abroad through its multiple production facilities (USA, UK, Bulgaria, Greece) and vast distribution network.
Matrix Pack has developed its own proprietary molded-fiber beverage cup lid design, and it could offer tailor-made lid design solutions to its customers and leading brand-owners that operate in the Informal Eating Out (IEO), Quick Service Restaurant (QSR) and HO.BA.RE.CA. market segments. Such eco-friendly fiber lids will be made from virgin wood pulp fibers sourced from certified responsibly managed European forests. In addition, there will be no plastic coating used, and its molded-fiber lids will be compostable (home and industrial composting) and recyclable.
Matrix Pack provides sustainable product solutions to the largest brands, and it has been able to secure contracts for the production and supply of well-defined and smooth-surfaced molded-fiber packaging products. Matrix Pack is customer-centric, and it endeavors to offer inspiring and calming moments to its partners and end-customers, while it aims to support the communities it serves in meaningful and transformative ways.

If you would like us to support you in meeting your sustainable packaging needs, please contact us at the following e-mail address and we will be delighted to assist you: sales@matrixpack.gr
This content was sponsored by Matrix Pack.