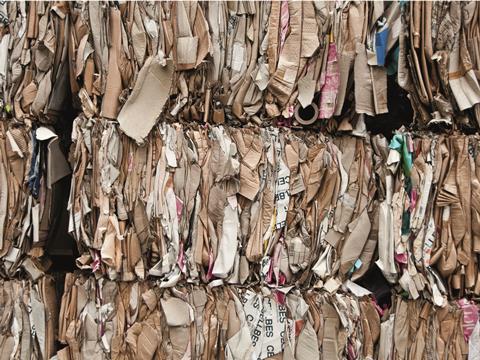 Interseroh elaborates on its addition of Cepi's testing method for paper packaging into its "Made for Recycling" testing portfolio in this edition of the Spotlight.

How sustainable is paper packaging? This is a currently much-discussed question – and in many cases, it can only be answered clearly with a targeted recyclability analysis. To make things easier for manufacturers and distributors, environmental services provider Interseroh+ is expanding its established "Made for Recycling" testing portfolio and is now offering assessments for paper packaging according to a new method from the Confederation of European Paper Industries (Cepi).
The recycling specialists at Interseroh+ are among the first to offer an assessment of paper packaging according to the new Cepi methodology. "With the packaging analysis 'Made for Recycling', our customers show that they evaluate the recyclability of their packaging according to the highest standards," explains Markus Müller-Drexel, Chairman of the Executive Board at Interseroh+. "We are constantly developing our range of services, and in doing so we aren't just keeping an eye on the latest scientific findings and the requirements of the future, we are also considering the actual conditions surrounding packaging recycling in particular."
The scientific "Made for Recycling" assessment standard, which was developed together with the bifa environmental institute and confirmed by the Fraunhofer Institute for Process Engineering and Packaging IVV, is an area in which Interseroh+ has an in-depth know-how with proven methods in packaging evaluation and optimisation.
What is behind the Cepi-method?
The highly-developed methodology for assessing the recyclability of paper packaging was published by Cepi in October 2022. It was developed by the industry association within the 4evergreen Alliance – an association of companies from across the value chain for fibre-based packaging. Their goal is to increase the rate of recycling to more than 90 per cent by 2030 and establish a uniform assessment standard in Europe. The Cepi-method is considered to be especially practical. The differences from previous standards such as the PTS method (PTS-RH 021:2012), for example, are to be found in the differentiation between coarse and fine rejects, the determination of macro-stickies, and the shorter dissolving time in the pulper.
How recycling-friendly is your packaging?
Consumers expect transparency – and policymakers have also been tightening standards: packaging should create a minimal impact on the environment and be easy to recycle. Want to know where your packaging stands in terms of recyclability? Book your analysis here!
About Interseroh+:
Interseroh+ is the Recycling Alliance of the recycling services provider Interzero. The offer from Interseroh+ GmbH is aimed at all companies which not only want to fulfil their legal obligations concerning packaging licensing, but also want to take responsibility for closing recycling and raw material loops – and they can also become a joint member of the Recycling Alliance. For further information on Interseroh+, follow us on LinkedIn.
This content was sponsored by Interseroh.