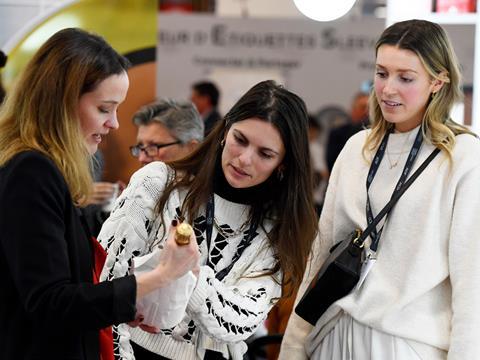 Following its successful show in January 2023, Paris Packaging Week is planning an exciting range of new features for its 2024 edition. The event brings together four shows dedicated to driving packaging innovation in specific related markets: ADF for the aerosol and dispensing market; PCD for the perfume, cosmetics and personal care market; PLD for the premium and luxury drinks sector; and Packaging Première for luxury products like fashion, accessories, confectionery, jewellery, fine food and more. We caught up with Josh Brooks, who is event director of Paris Packaging Week at the organiser Easyfairs, to find out more.
First of all, congratulations on a fantastic 2023 show! We heard great things. I'm sure it'll be hard to narrow it down, but what was your favourite moment from this year's Paris Packaging Week?
Thanks and you're right, it's very hard to pick. My favourite moment of any event is when the doors open on the first morning and the queues of visitors rush into the hall – after months of work, it's great to see the enthusiasm of the packaging community to be at the event and to meet the suppliers, hear the speakers and use the event to create their next pack.
I have a real soft spot for our student innovation competitions – it's great to shine a spotlight on the next generation and I loved the sessions where they spoke. And our 2023 edition of Paris Packaging Week was a record-breaking event for us and we won two event industry awards for the edition, and of course, I loved receiving those awards.
For the 2024 edition of the show, Easyfairs is particularly focused on promoting the next generation of packaging industry thought leaders and decision-makers. Could you tell us a bit more about your Future Leaders initiative?
That's right – it's a fundamental part of our mission to help the packaging communities in beauty, luxury, drinks and aerosols to have a vision of their future. That means discovering new technologies, new materials, new innovations and so on. But this year we wanted to expand that to shine a light on the next generation of industry influencers and leaders – so Future Leaders was born.
We selected eleven 'Future Leaders' for the 2024 edition from more than 40 nominations. All are under 30 and they are a mix of entrepreneurs and rising stars in packaging companies and design agencies. The eleven selected are from across the globe – from Europe to South Africa and the US – and all demonstrate an inspiring mix of creativity and courage, as well as real innovative and sustainable thinking. I'm very excited to meet them at the show and they will be talking as part of the content programme, sharing their vision of the future of packaging development.
On a similar note, the Innovation Awards aim to highlight groundbreaking packaging products. What were some of your key takeaways from this part of the 2023 show, and could you tell us a bit more about some of the winning innovations that most impressed you?
The ADF, PCD and PLD Innovation Awards highlight the very best packaging innovations of the past year in, respectively, aerosols and dispensing, perfume and cosmetics and premium drinks. The awards are judged by panels of global experts in packaging innovation, including innovation directors at many household-name brands. Winners in the 2023 edition demonstrated many of the key sustainability trends – increased use of PCR, monomaterial packs for better recyclability and refills – as well as incredible design and user experience.
Two of the winners I loved were the very beautiful and colourful Dries Van Noten range of refillable perfume bottles made for Puig, and a fabulously eye-catching paper secondary pack for an Edmond de Rothschild magnum of wine. To me, both encapsulated the mix of technical innovation, sustainable development and great user experience that defines the best packaging.
I also gather that you have changed the way in which your conference theatres are organised. What was the thinking behind this?
Yes, for this year we are creating four new conferences. We will run the Global Aerosol & Dispensing Summit in ADF, then three themed theatres: the Circular Economy Stage, focusing on sustainability issues; the Pentawards Design Stage, run by the world's biggest packaging design competition, the Pentawards, and focusing on design and branding; and the Future Innovation Forum, focused on what's next in terms of packaging innovation strategies and possibilities.
We have some amazing speakers lined up too, from the likes of Diageo, Fenty Beauty, Huda Beauty, Le Rouge Francais, Rémy Cointreau and many more. We made the change to focus on themes that touch all the markets we serve and to create forums where our visitors can better learn from what is happening across markets; instead of the theatres focusing purely on the beauty, drinks or luxury markets, as they did previously.
There are only a couple of months to go until the start of the 2024 edition of Paris Packaging Week, and I imagine that the planning/execution phase is in full swing. Simply put: what can visitors expect from this edition of the show?
Well, 2024 will be our biggest edition yet, with more than 650 exhibitors across the four exhibitions at Paris Packaging Week – ADF for the aerosol and dispensing market, PCD for the beauty market, PLD for premium drinks and Packaging Première for the luxury market. It's always busy but we are making it easier than ever for our visitors to find the products and knowledge they need, and the people they want to meet – especially with a new app that will offer GPS-based navigation of the show, among many other interactive features. Visitors can expect great networking opportunities across our many bars and lounges. So it will be a busy, dynamic and most of all fun environment for visitors to source, learn and meet. We can't wait.