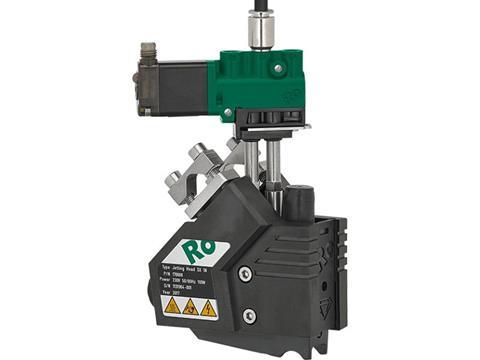 "Precise, reliable, and long-lasting" – this is the key message of Robatech's presentation of the new SX LongLife, a hot melt jetting head for long-lasting precision adhesive application.
Robatech AG is setting a new standard for long-lasting jetting heads, extending their portfolio with the new SX LongLife application head. It is a further development of the Diamond series and therefore compatible with most Robatech application systems. This insulated application head is perfect for precision dot and bead application at medium to high speeds. Its long service life is the origin of its name: Thanks to a specially developed jetting element and robust solenoid valve, it is particularly long-lasting, with the potential to reach up to 200 million operation cycles.
SX LongLife durable with 200 million operation cyclesPrecision and long service life. Designed for the contact-free application of low- to medium-viscosity thermoplastic hot melt adhesives, the small dimensions of the SX LongLife makes it ideal for upgrades and installation in systems with restricted space. An integrated filter in the heating block prevents nozzle blockages, ensuring reliable adhesive application over the long term.
Modular and compatible. The SX LongLife application head is modular, available in different variants, and can be flexibly adapted to the respective application. This operating philosophy and compatibility between models reduces the spares inventory, since various components such as the filter, nozzles, and heated hoses are the same. Modular, in different variants
Highest safety thanks to CoolTouch. The CoolTouch insulation of the application head means that both the operator and the products to be glued are better protected. CoolTouch increases safety in case of accidental contact. This heat-resistant insulation also saves energy and contributes to resource-friendly, sustainable production. The new generation of the Diamond series combines highest switching frequency with maximum service life, making it ideal for flexible use in a variety of industries.
With the SX LongLife, Robatech has developed a product adapted to our customers' wishes for long service life. "The name LongLife stands for precision, reliability, and long service life – qualities that guarantee high process reliability. This new application head highlights our expectations for quality," explains Fabian Renggli, Product Manager Application Heads, adding: "Whether they're in the packaging or the graphics industry, companies rightly expect application solutions that offer process reliability, flexible integration, and meet high quality requirement. No company wants to lose time to replacement or repairs. They need a technology that works smoothly, effectively saving time and reducing costs. The SX LongLife was first presented at Interpack 2017 in Düsseldorf in May and is available worldwide.
More info: