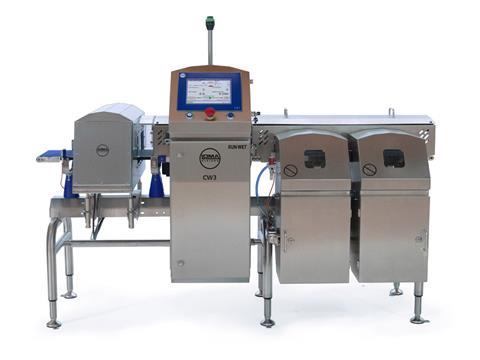 Loma claims that by producing a far more sanitary design that is both quicker and easier to clean, the risk of bacterial contamination can be minimized, thereby increasing food safety and satisfying the strictest codes of practice and food safety standards.
Created with the goal of withstanding harsh, high-pressure and high-temperature deep cleaning regimes, the systems are suitable for high-care food environments, such as protein, dairy produce, meat, fish, and convenience food.
Following many of the EHEDG guidelines, the RUN-WET Combo and Checkweigher systems offer a host of new features and smart design techniques. They include easier-to-wash frames that use surfaces for quicker water run-off, minimal welds and reduced contaminant traps for optimum deep cleaning, with reduced risk of water ingress.
Removable top panels provide access to clean the conveyor belt without compromising safety, and enclosed motors, controls and pneumatics are all high-pressure and high-temperature washdown proof to IP69 rating.
In addition, the systems require no drying time following cleaning; this immediate start functionality apparently improves overall equipment effectiveness, helping to provide fast-paced food manufacturing and processing facilities with valuable gains in production time and cost savings.