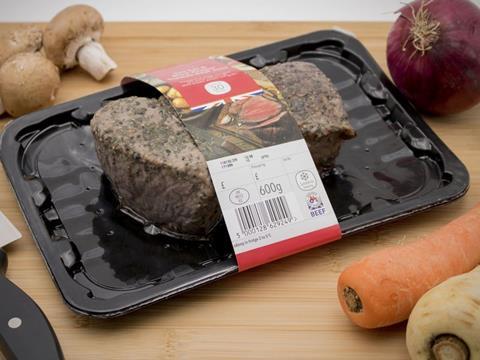 Leading food packaging manufacturer, LINPAC (Klöckner Pentaplast) has collaborated with meat processor, Dunbia, to introduce a convenient 'quick roast' joint pack concept, Prime Cook, to the shelves of major retailer, Co-op.
The novel product, which won 'Best Product New to Market' at the Supermeat Awards last month (September 2017) has the potential to put the traditional British Sunday roast on tables across the UK as a mid-week dinner option.
Dunbia beef and lamb joints are packaged in LINPAC's innovative Prime Cook vacuum skin pack (VSP) and partially cooked in a hot water bath (sous vide) before being labelled and dispatched to Co-op stores across the UK.
This process enables the average homeowner to remove the beef or lamb roasting joint from the packaging and cook it using a conventional oven tray for just 30 or 45 minutes respectively. The 'quick roast' joint retains the same desirable flavour and tenderness of a traditional, slow-cooked joint.
"Vacuum Skin Packaging was chosen for Prime Cook because it offers extended shelf life, minimises food wastage and showcases the product to consumers," explains Helene Roberts, Director of Global Marketing and Innovation at LINPAC (Klöckner Pentaplast).
"In addition, the pack includes a unique perforated rPET insert which captures juices released during the manufacturer's sous vide cooking process and conceals them. These juices can later be used by the consumer to make a flavoursome gravy and enhance the overall finished product. It offers the ultimate in convenience for the consumer who wishes to enjoy a tasty mid-week roast without the usual lengthy preparation and cooking time."
Prime Cook follows a long line of LINPAC (Klöckner Pentaplast) innovations that address growth in the convenience sector for retailers. The forward-thinking pack has been shortlisted in three categories in the UK Packaging Awards 2017: 'Consumer Convenience', 'Rigid Plastic Pack of the Year' and 'Innovation of the Year'.Co-op Quick Cook Beef and Lamb Quick Cook Roasts are available in selected Co-op stores across the UK.
More info: