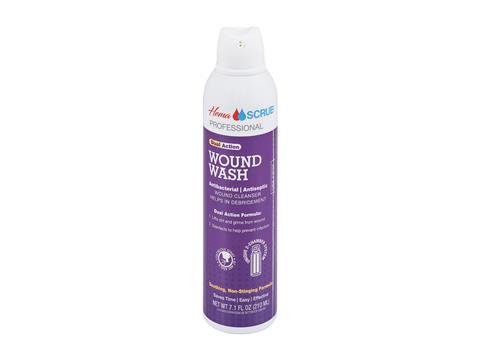 LINDAL's award-winning bag-and-bag (BAB) technology has been implemented in a new antisceptic foaming wound cleaner that offers unique benefits to consumers.
Designed for professional and consumer use in the medical and veterinary markets, and created by Med Scrub Inc., HemaScrub Cleanser is a dual-action wash that mixes two formulations at the point of dispensing with the aim of treating wounds more effectively.
During wound treatment, dirt and debris can often enter the affected area, and it can be problematic to remove this quickly, without causing pain to the patient. Addressing this obstacle, the cleaner uses BAB technology to 'foam out' dirt and grime using a dual-vortex dispensing system that mixes the cleanser, simultaneously dispensing two sprays while cleaning the wound and removing debris.
Med Scrub Inc.'s director and medical developer, Anthony Talamonti, comments: "From the moment we learned about LINDAL's BAB technology we knew it was exactly what we were looking for in a spray can form delivery system due to its capabilities in keeping ingredients separate and stable before being dispensed."
The technology's use of compressed air means that formulations can be dispensed at an ambient temperature, ensuring humans and animals are not shocked with ice-cold propellants when treated for wounds.
The formula can also be dispensed in any direction from the can, with 360° usability, and because the compressed air solution doesn't produce a hissing sound, animals are not frightened when the wash is applied.
BAB works on the same principles as the single bag solution, bag-on-valve technology (BOV). Like BOV, BAB incorporates compressed air, sealed packaging, continuous dispensing, and has a 96-98% evacuation rate depending on product viscosity.
However, in contrast to BOV, BAB has two product chambers inside the same can. Each chamber can contain potentially incompatible formulations, and the two products mix at the time of use or after application if required.
LINDAL recently won the FEA (European Aerosol Federation) Packaging Element Design award for BAB. The jury reportedly acknowledged the benefits of the Bi-power valve as well as the flow limitation concept managed in the actuator instead of the valve, thus allowing a faster filling.