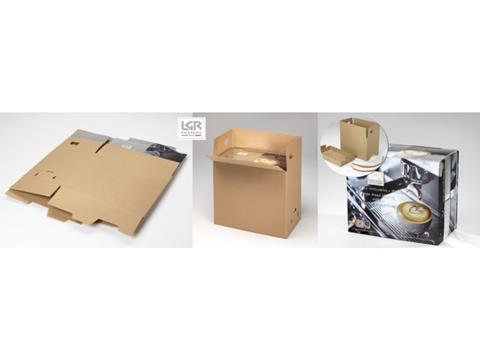 To support customers on the e-commerce market, LGR Packaging has developed a range of products meeting requirements of this distribution channel as well as fulfilling the clients' needs to enhance their brand image.
The originality of the "All-inclusive" Pack lies in the common supply of an offset printed laminated box with an outer protection, as one unique item. The overpack improves the resistance and protects the design of the box ; it contains a fast-opening device and can be re-used in case of product return.
This packaging is delivered flat to the brandowner who will form the two parts of the case simultaneously. The packing process is streamlined, as the "All-inclusive" Pack can be closed and sent as soon as the product has been put inside, with no additional step. Made from 100% recyclable mono-material, this solution is adjusted to the size of the product, minimizing cardboard consumption.
The other major asset of this registered "All-inclusive" Pack is to keep the offset printed laminated box just like the consumer can find it in retail. It is then consistent with the producer's brand image, and the consumer is not disappointed when opening his shipping carton: the product is clearly identified and highlighted thanks to a high-quality packaging, which promotes customer loyalty.
More info: