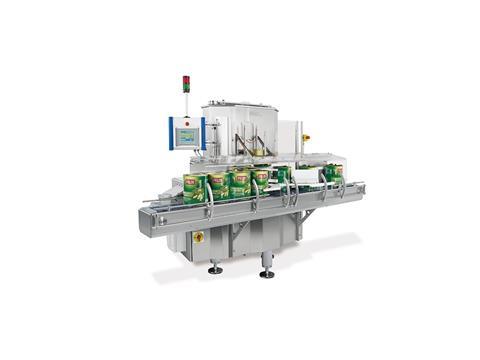 LANICO offers a new machine for efficiently seaming large and even overfilled food cans. With a maximum output of 1,800 cans per hour, the fully automated GSVA 365 seamer processes 'hefty' can sizes up to 230 mm diameter and 300 mm height.
LANICO designed the GSVA 365 seamer for large cans filled with vegetables, mushrooms, pickles, gherkins or sausages – products that stand still while seaming. Both the seaming module and the machine cover are made of stainless steel so that the machine can be used in dry and humid production conditions. Format changes are performed effortlessly and conveniently due to quick-changeover parts with seaming rollers mounted onto a pre-set lever-system.
The GSVA 365's hygienic and economic design is the result of the manufacturer's extensive experience based on more than 100,000 LANICO seaming machines installed on the market. The user-friendly control panel comes with a text-based display. The CE-certified machine conforms to EU regulations.
Since its foundation in 1919, the LANICO Maschinenbau Otto Niemsch GmbH has been producing machines for the can making and canning industry. Today, the company has become one of the leaders in the field of general line, aerosol and rectangular can making equipment. LANICO holds a major market share for combined necking-, flanging and seaming machines. Other fields of application include special machines for the filtration and automotive industries as well as capacitor manufacturing. Can seaming machines made of stainless steel round off the extensive portfolio.
More info: