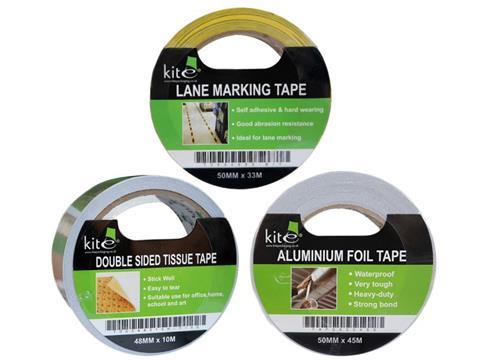 The latest launch in the Kite range comes as an extension to their existing tape range. The three new tapes launched all offer a range of benefits.
Commonly used in a range of industries Kite's double sided tape is a strong hot melt adhesive and is an ideal alternative to glue as it is clear and can be discreetly placed between two items. It is commonly used for electrical components, advertising, office and stationary use and much more. It can be used for most light duty products that need sticking to something or together.
Kite's high quality Lane Marking Tape is commonly used in warehouses and on factory floors to mark or identify hazardous areas, such as marking out track ways for construction vehicles or defining walkway areas. Featuring vivid black and yellow stripes, it can also be used to put on low hanging ceilings or products to warn of low head room and also to warn of changes in floor levels. It has a multitude of uses and is ideal for temporary or permanent marking.
Aluminium foil tape is renowned for offering the qualities of aluminium whilst upholding a long lasting adhesive. It is used within a wide range of industries. Due to its components that allows it to adhere well in low temperatures and high humidity it is great for heating, ventilating and air-conditioned systems. Kites high quality aluminium foil tape is also waterproof, very tough and can be used for heavy duty requirements.
More info: