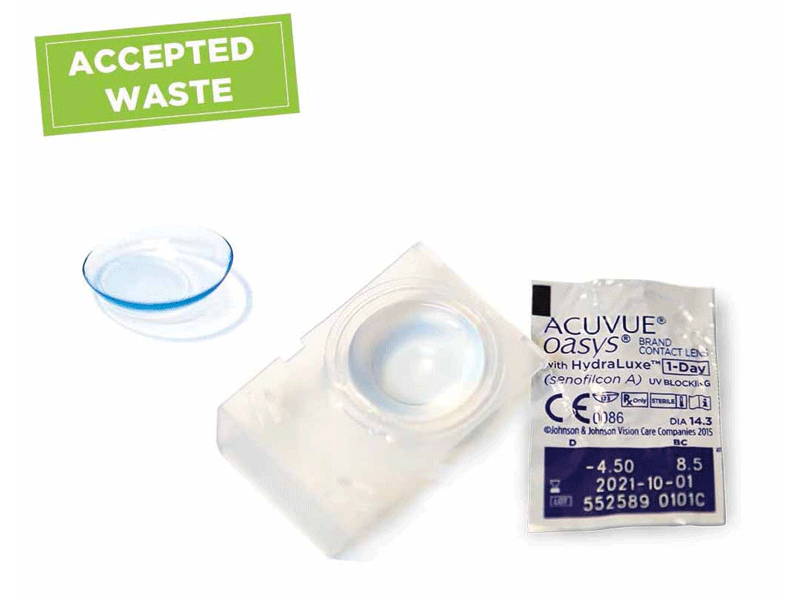 Through its new UK contact lens recycling scheme, the ACUVUE Contact Lens Recycle Programme, Johnson & Johnson Vision and its partner TerraCycle are looking to drive real change in consumer behaviour. We spoke to Giovanni Abruzzini, Director Northern Europe and General Manager UK/Ireland, about the scope of the scheme, how it will work and why it is necessary.
According to recent research carried out by Johnson & Johnson Vision, over two-thirds (70 per cent) of consumers are confused about the types of household items they can recycle. And it seems a similar confusion exists among wearers of contact lenses: the research found that over a third (39 per cent) of users aren't sure or believe they can't recycle lenses.
The reality is that lenses can be recycled but it is more challenging than with many other forms of plastic waste. Furthermore, there is not only the lens itself to be considered but the protective blister pack and laminated foil it's contained in. Up to now, contact lens users in the UK would be obliged to actively seek out their own paid-for recycling scheme, but Johnson & Johnson is hoping to change this.
A game-changing approach?
"In the UK, there are about 3.7 million people wearing contact lenses, which amounts to something like three quarters of a billion contact lenses used each year," says Mr Abruzzini, "so we have to start thinking about the sustainability factor: how do we get consumers to recycle these rather than throwing them in the sink or flushing them, as almost 20 per cent currently do?"
With this in mind, Johnson & Johnson Vision have partnered with waste management specialists TerraCycle to launch the ACUVUE Contact Lens Recycle Programme. This is the UK's first free nationwide programme that enables consumers to easily recycle not only the contact lenses themselves but the blister and foil packaging.
The way the programme works is simple: consumers will have the option of either having their contact lens material collected, or dropping it off through a network of recycling bins at public drop-off locations at optical stores throughout the UK – such as high street retailer Boots Opticians. Over time, through these recycling partnerships with Boots and a number of other independent stores, it aims to provide over 1000 public drop-off recycling points across the country.
Mr Abruzzini also stresses that the programme is available to all soft contact lens wearers, regardless of which brand they use. "There is no financial or business motive as such: it's not about our consumers, our wearers, our customer. The purpose of the initiative is solely to help reduce plastic waste in landfills and waterways."
Naturally, there is also the question of what to do with the waste material itself once it has been collected. Are there many opportunities to upcycle this into new products?
"Yes, there are: for example, we realised through TerraCycle that the contact lenses, blister and foil packaging could be reused for products such as park benches or plastic lumber."
Potential for expansion
Given the broad product portfolio covered under the Johnson & Johnson brand umbrella, we also wondered whether there were other in-house product categories this kind of approach could be applied to in the future.
While our interviewee is not able to go into detail about other members of the group, Johnson & Johnson's internal structure does offer scope for such knowledge-sharing. "I can say that sustainability is at the core of Johnson & Johnson in terms of our approach. We have a lot of internal processes for looking at programmes such as this and sharing best practice, so there is a certainly a possibility this approach can be a model for future programmes."
Johnson & Johnson have agreed a one-year review of the programme with TerraCycle, in order to assess its impact and whether any adjustments are needed. The aim is to renew after the first year if all goes according to plan.
And so far, Mr Abruzzini says the signs are encouraging. "We have been overwhelmed by the positive reaction. Around 11,000 people visited our website within the first few hours of the launch, and about 300 consumers signed up right away."
As to whether this programme will be confined to the UK, or be rolled out in future across Johnson & Johnson Vision's other key sales regions – "At the moment the UK is the largest contact lens market in Europe, and our partner TerraCycle is also well established here. But in future the key learnings could well be applied to other markets."
If you wish to join the scheme or find out more about where to recycle your lenses, further information can be found here.