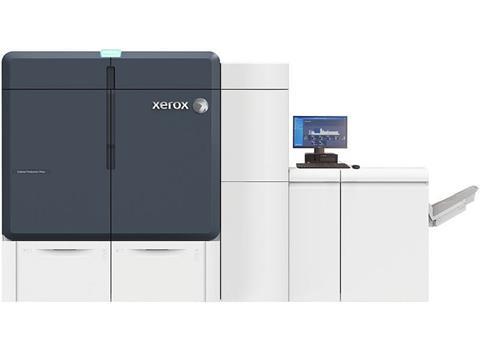 Xerox has announced a first in the world of print – a high speed, six station colour press that combines four-colour printing with up to two specialty dry inks in one printing pass.
The company says that the Xerox Iridesse™ Production Press is the only digital press that can print metallic gold or silver dry ink, CMYK and clear dry ink in a single pass, with powerful new colour management and automation features, giving print providers a competitive edge in the growing digital print enhancement market.
"Iridesse can do things no other digital production press can do, but it's what it can do for our customers that's most important," said Ragni Mehta, vice president and general manager, Cut Sheet Business, Xerox. "We created the press to produce these special effects and digital enhancements cost effectively and in a simplified workflow so our customers can seize the market opportunity and grow their businesses."
Iridesse eliminates multiple presses and processes usually required for print embellishments, increasing capacity and profits for customers. According to Keypoint Intelligence-InfoTrends, digital print enhancement can result in a rapid return on investment as print service providers' profit margins on such embellishments can be as high as 50 to 400 percent1.
"Iridesse's one-pass capability, workflow automation for incorporating metallics and varnishes combined with run-time quality control technology is a differentiator for Xerox and can give print providers a competitive advantage," said Ron Gilboa, group director, Production Technology, Keypoint Intelligence-InfoTrends.
With two inline specialty dry ink stations, customers can create lucrative applications with spot colours, metallic and mixed metallic gradients, and specialty enhancements. Gold and silver dry metallic inks can be used on their own or layered under or over CMYK to create unique iridescent palettes. A layer of clear dry ink can be added for an extra touch of dimension or texture.
No designer, no problem
Xerox FreeFlow® Core's pre-built workflows enable print providers to automatically and selectively transform text and graphics for printing gold and silver without editing the source documents. This simplifies enhancing existing applications with high-value embellishments. Printing at speeds up to 120 pages per minute, the press can run stocks from 52 -400 gsm.