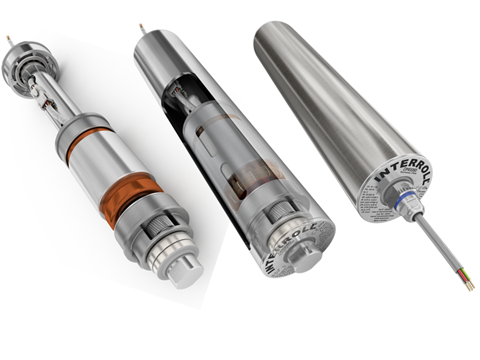 Interroll will exhibit key products for material handling at the PPMA show including its energy-efficient 24V drive technology, its powerful drum motors and modular conveyor platform concept.
Interroll will display the world's most powerful, stainless steel synchronous drum motor for belt conveyor systems, with a proven output of up to 1.1 kilowatts, a particularly high torque up to 100 Nm and extremely high belt tension. With this drive solution the food and pharmaceutical industries have an ultra-hygienic and energy-saving option at their disposal.
Its particularly compact design supports smaller turning diameters and thus also makes it possible to convey smaller items and handle a wide range of products on one single system.
Efficient 24V drive technology minimizes energy consumption By contrast with conventional conveyor systems that are equipped with a drive in continuous operation, the Interroll RollerDrive makes it possible to build up an intelligently controlled conveyor system divided into zones. Therefore, the drives of each individual conveyor section are only powered when material is actually conveyed.
At throughput rates of 600 to 1,800 units per hour, this achieves energy savings of up to 50 per cent by comparison with continuously running motors. Moreover, thanks to the demand-driven operation and the elimination of additional driving mechanisms, the noise level and the plant wear are substantially lowered as well. Interroll's new drum motor platform cut costs and lead times
Interroll's new motor platform is completely modular in design and encompassing both synchronous and asynchronous technologies. Available first in 80mm-diameter drums, plans are underway to expand to the entire range.
All motors are available with a widened spectrum of speeds and the high standard of hygiene compliant with IP69k. Each motor is tested and designed in modular fashion in such a way that it can be delivered worldwide in the shortest possible time.
Featured also will be the Modular Conveyor Platform (MCP) (see picture) that can be flexibly applied in entire conveying systems and is unique in that it can be scaled to meet a wide range of requirements.
Visit the Interroll PPMA Stand: F10
More info: