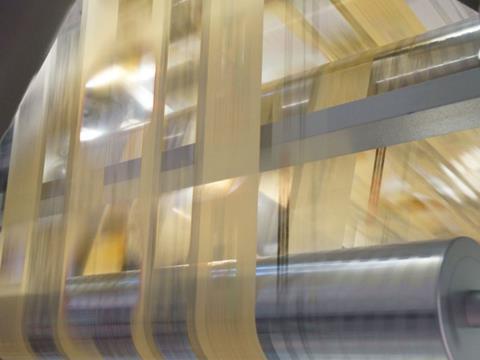 Innovative processes and technology applications for flexible packaging production await visitors who will attend the upcoming Open Door event scheduled on 30th and 31st May 2018 in the Competence Center of Bobst Italia's production plant in San Giorgio Monferrato, during the Print4All exhibition in Milan, Italy.
Spotlighting the unique know-how of BOBST's Center of Excellence for gravure printing, laminating and coating technology, demonstrations will focus on trending applications, latest R&D developments and machine performance.
"We have organized an event programme that, alongside the actual machines in demonstration, highlights our commitment in supporting our customers in achieving excellence in process performance. Our aim is to position manufacturing with BOBST equipment at the very top and even ahead of the varying applications that the market increasingly demands, and of course do it in the most profitable way" explains Michele Vitiello, Managing Director of Bobst Italia, and Head of the Product Line Gravure. The machines at the Open Doors represent the highly successful laminating and gravure printing solutions that BOBST brings to their respective market segments: the CL 850 laminator has a firmly consolidated position in the class of high performance equipment with advanced technology and automation, the CL 750D is establishing itself in the high quality compact laminator markets world-wide, and the RS 6003S gravure printing press in shafted configuration will be seen for the first time in the Competence Center of Bobst Italia.
The actual demonstrations will show applications that are at the top of the current industry trends. They also reflect BOBST's ongoing collaboration with leading industry consumable suppliers, where the technological drive is to assist converters to be on top of ever changing process performance challenges.
"This will be the first time that both the CL 850D and the CL 750D laminators will be shown in demonstration at the same event" comments Juan Cano, Head of the Product Line Lamination, Business Unit Web-fed, Bobst Italia "This is an exciting opportunity because there is no better way for converters to assess what makes them the best choice in their respective classes of equipment. Also, it allows to appreciate how uncompromising the quality of BOBST equipment and lamination output is, irrespective of the applications and market segments addressed or of the level of investment", he concludes.
The technology sessions will be followed by an evening networking event that will take place at one of the treasured historical castles of the wine-making Monferrato region.
More info: