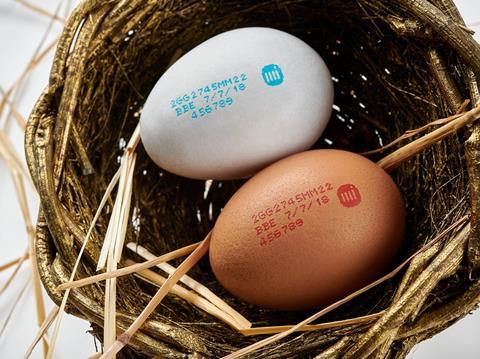 An inkjet printer customised for egg production and capable of coding over 250,000 eggs per hour on an eight-track grading machine is launched by Markem-Imaje. Thanks to a specific communications protocol, the solution eliminates operator mistakes while automatic cleaning and smart consumables systems help maximise quality and uptime.
Codes printed directly onto eggs contain useful safety and traceability information such as best before dates and farm identification. Such coding fulfills a legal obligation in many countries and, even where not legally required, some producers choose to include this kind of information, sometime augmented by logos, as a way of differentiating their eggs as coming from a trustworthy source.
Egg producers use machines with specific communication protocols to process, code and pack their eggs. One of the most commonly used brands for this purpose is from Moba. A specially configured version of Markem-Imaje's 9450 coder has now been certified for use on Moba's machines. The coder can be easily installed on egg production lines on a 'plug and play' basis. Unlike other brands which are similarly certified, this coder does not require an external PC to be operational. A series of brackets are also included to facilitate installation and get coding operations running quickly and cost-efficiently.
This inkjet printer offers a range of additional features not available with others commonly used to code eggs. For example, the ability to operate from a standard 7-inch colour touch screen and its online guiding system mean operators gain time when starting or stopping print runs, changing cartridges and checking printer status, for example. And, without stopping the line, the embedded software allows producers to monitor consumable consumption and running costs. This enables them to react proactively to protect uptime and keep costs under control.
Additionally, service intervals on the printer's pressure pump have been extended to 14,000 hours. This is nearly double the interval associated with older generation pumps from various suppliers which are still widely used across the industry.
The 9450 is characterised by a mono-block printhead design that makes head cleaning easy and trouble-free. When necessary, its automatic cleaning system will ensure jet stability is faultless when restarting and therefore the quality of the code is consistently high. Additionally, this design optimises the use of energy as well as ink and additive consumption, enabling users to cut these expenses up to 20%.
Another attribute is its smart consumable system which uses a built-in sensor that prevents the insertion of incorrect ink and additive cartridges, thereby avoiding costly downtime. Additionally, its clean and sealed cartridges remove the risk of spilling, or accidentally pouring, an unsuitable consumable into the wrong ink or additive tank, again avoiding downtime.
Rated at IP56, the stainless steel housing is suitable for use in wash down areas. There are no retention zones to trap food thus ensuring the machine is fully cleaned and potential bacterial contamination is prevented.
The solution, which is available in Europe and North America, can print logos, as well as up to 4 lines of code, directly onto eggs using pink or blue food grade inks. The colour chosen depends on region and egg type: white versus brown.
"Egg recalls relating to health concerns with salmonella have shown that traceability is vital to protecting a brand's reputation," says Gary Bolton, Continuous Inkjet Product Marketing Manager. "Not printing codes onto eggs, or having ones which are unreadable, can have costly consequences to the provider of eggs.
"In times when food traceability and security are paramount, Markem-Imaje's inkjet egg solution is the perfect choice. Its food-grade compliant inks and consistently top quality prints meet traceability requirements while still accommodating the fastest production speeds and ensuring high uptime in terms of installation, use and consumption."
Markem-Imaje's 9450 coder has now been certified for use on Moba machines to print logos, and up to 4 lines of code, directly onto eggs.
More info: