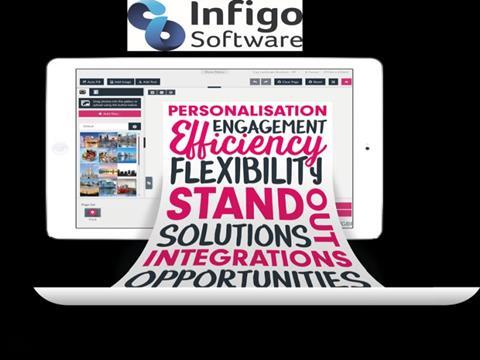 Following a successful collaboration at last year's The Print Show, Infigo Software and Xeretec returned to deliver a powerful live demonstration at the show in Telford.
The focal point of the engaging travel themed demonstration was how print and packaging suppliers need to focus on automation, personalisation and a slick online user experience to engage the savvy, 24/7 digital generation, and avoid the pitfalls of commoditisation.
Infigo's Catfish e-commerce platform provided the portal and integration to print personalised products live at the event. The demonstration showed how together with an innovative hardware partner like Xeretec they can enable brands to deliver new levels of consumer engagement in print and packaging.
Douglas Gibson, Managing Director, Infigo Software commented, "Since our launch in 2010, we've seen an amazing rate of change in consumer behavior that is driving demand for solutions like ours more than we could ever have anticipated. We're surrounded by news of how the Uber, Amazon and AirBnB effect has raised customer expectations for self-service, 24/7, highly personalised experiences in almost every sector. And brands and suppliers are realising that they need to act fast to deliver the best user experience to avoid losing customer loyalty."
Gibson continues, "In order to differentiate our proposition, we've focused on developing value-added partnerships, integrations and product enhancements with customer experience at the heart. We can be flexible and dynamic because we own and write the code to our solution and so can flex to meet individual client needs – which we believe is essential for today's dynamic customers. We're excited to be working with Xeretec to show how together our solutions make success easier for clients. "
The Xeretec stand was an enticing haven in The Print Show arena, offering a get-away experience designed to show how the latest Xerox hardware and partner integrations can take businesses on a journey into a future of profitability and longevity. And the Infigo powered personalised demonstration showed how suppliers can productise their offer and deliver outstanding brand engagement opportunities to their clients.
The Infigo team also took visitors to the stand through the benefits of its latest integrations with Tharstern and Enfocus PitStop which are revolutionising the time and man power required to produce impactful on-demand print. Attendees were able to see the industry-first integration that delivers on-demand JDF approved estimates, enabled through the new Tharstern API. This collaboration was announced last month and has gone down a storm as printers recognise the opportunity to give more power to their end user, reduce reliance on estimating teams and empower their sales teams to close more deals on site.
The Enfocus partnership is also proving an invaluable addition to the capabilities of the Infigo Catfish platform. Infigo showcased how the Enfocus PitStop integration enables automated preflight and artwork management within a single workflow, resulting in error-free, print ready PDF files, reducing hours of manual tasks. This is a real game-changer in workflow automation.
Xeretec and Infigo are joining forces because they recognise that together they can offer brands and suppliers so much more. Delivering the engaging front-end experience along with the innovative capabilities of the printing hardware shows prospects the real-life application of what they could achieve with the right partners.
Steve Andrew, Region Manager at Xeretec, added, "At Xeretec, we believe it's more about the overall solution. We know that one piece of technology isn't going to make the difference but rather it's the bringing together of the different technologies and solutions, working together in synergy which delivers the best return on investment. This is what we'll be showcasing at The Print Show and this is why it's worth spending time with us and our partners."
The demonstration at The Print Show showed more than just fast and efficient product personalisation too. Visitors to stand H03a were inspired by how easily digital print enables them to enter new markets and create new revenue streams. Infigo's enhanced 3D preview tool delivered a true-to-life visualisation of the end product, including finishing touches, such as foiling, embossing and spot varnish, enabling users to see the product at its best in the digital space, which is vital for brands competing to create stand out.
More info: