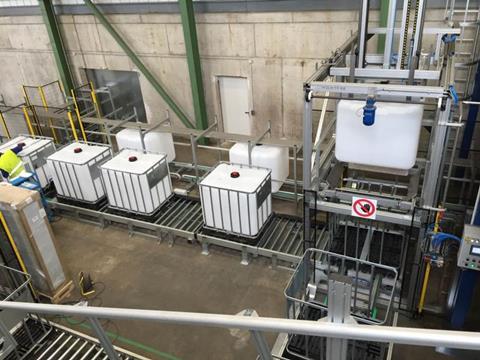 Yes, for example, there are clear trade-offs between down-gauging and reconditioning. Both of these reduce carbon emissions. However, the CO2 emissions reduction impact is greater with reconditioning. In addition, downgauging (depending on the extent) can limit or prohibit steel drums from being reconditioned. We offer both alternatives to our customers and we try to raise awareness about the CO2 impacts of both options. Ultimately, it is the customer's choice.
Tim Sykes
How is Greif's R&D structured in relation to sustainability? What areas of in-house product innovation are you working on?
Aysu Katun
In 2018 we combined our Global Innovation and Sustainable Innovation teams into a single Global Innovation Committee. The newly formed committee is comprised of representatives from each of Greif's business units and is responsible for driving collaboration and idea sharing across business units. In our RIPS North America business, innovation priorities are evaluated and prioritised based on potential financial return, sustainability impacts and overall value to Greif and our customers. The committee provides quarterly updates to our executive leadership team on progress on innovation priorities and industry megatrends that may influence innovation and overall company strategy in the future.
We have conducted Life Cycle Analysis (LCA) studies, through a third party on all of our major product lines starting in 2009-10. The results of these LCA studies showed us that the majority of our environmental impact comes from two main sources – raw materials and end of life. This shaped our innovation strategy for the next ~ ten years where we focused on finding ways to reduce the raw materials used in our products. For example, lighter plastic drums (NexDRUM® and Valerex®), lighter jerry cans, lighter steel drums and the development of our Post-consumer resin (PCR) product lines in Europe and North America.
We have developed an Environmental, social and governance (ESG) criteria list which helps us to determine which of our current products can be categorised as sustainable, which projects in our innovation funnel have sustainability components and use sustainability criteria as an input for product, process and service development.
Our innovation efforts focus on transforming our product portfolio by developing sustainable packaging solutions based on a set of eight environmental, social and financial sustainability criteria. Through internally-initiated solutions and collaboration with customers, our innovation efforts focus on dematerialisation—producing products that are lighter weight, utilise less virgin raw materials and more recycled content—and green material substitution—identifying safer materials to produce our products, including bio-based materials—while continuing to meet performance requirements.
For example, we are adding two more lines in North America to expand our PCR product line, EcoBalance™ and we have operationalised two lines dedicated to producing lighter weight IBC bottles and anticipate adding more. Furthermore, we have developed a new IBC plastic pallet design. Compared to the old pallet design, the new pallet is now made of 100 percent recycled High-density polyethylene (HDPE), is fully recyclable and can be easily disassembled.
Tim Sykes
How has the acquisition of recycling capacity played a part in your strategic moves on sustainability?
Aysu Katun
An important finding from our LCA study was a significant portion of our environmental impact comes from the end-of-life use of our products. We saw this as an opportunity to reduce both our own and our customers' carbon emissions impact and waste. These results along with customer requests on the need for recycling/reconditioning services, resulted in Greif developing the EarthMinded™ Life Cycle Services (LCS) program and acquiring two reconditioning companies to establish Container Life Cycle Management (CLCM) in 2010 to support those operations. The acquisition of Caraustar Industries in 2019 is also an extension of this strategy.
The EarthMinded LCS program leverages a network of Greif joint-venture owned (CLCM) and third-party owned service providers in EMEA and North America. Participant reconditioners in the network collect used, empty, plastic, steel and IBC containers. FIBC containers are collected in EMEA through our wholly-owned subsidiary, Rebu. The collected containers are reconditioned so they are suitable for reuse and then reintroduced into trade or prepared for safe recycling. In 2018 the EarthMinded LCS network reconditioned close to 3.3 million containers and recycled another 849,498 containers.
As the global waste crisis continues to grow and regulations around waste and circular economy increase, reconditioning and recycling services will be increasingly important. Our reconditioning business plays a key role in our circular economy program and helps us and our customers achieve waste reduction targets, keep packaging products from going to landfills and reduce the demand on natural resources.
Most of our global key customers have carbon emissions and waste targets. However, sometimes there can be a disconnect between sustainability and procurement departments. We continue to work on alternative business models and develop solutions that will work for both our customers and us.
Tim Sykes
How do you engage with your suppliers and customers and the broader value chain to further your sustainability goals?
Aysu Katun
We look at our entire value chain to identify ways to reduce our combined environmental footprint, improve working conditions and create value. In relation to customers, in 2010 we developed the Greif Green Tool to enable our customers to evaluate the greenhouse gas GHG emissions associated with different packaging options and shipping scenarios and calculate their scope 3 GHG emissions. Since being introduced, the majority of our global key customers have used the tool. This past year, we updated the Greif Green Tool by enhancing its analytical capability to allow detailed modelling, allowing plant/process specific analysis, updating the tool's underlying data sets and improving the classification of our sustainable products and processes portfolio. Based on the results of the analysis conducted, we are able to make recommendations to our customers on how they can best reduce their carbon impact from packaging.
We also look at megatrends and ESG risks that have and will have an impact on our own and our customers' businesses to develop solutions for our customers. These are global shared problems that can only be solved through collaboration so we work with our customers to identify solutions such as developing products that use fewer raw materials to help our customers meet their sustainability targets and mitigate ESG risks.
In addition, we focus on product and customer safety. For example, one of our RIPS facilities in France implemented an automatic steel drum unloading system. This unique system unloads nearly 400 drums per hour. It was designed specifically for a customer and is able to interact with a variety of standard transport equipment. Installation of this system has improved safety, quality, the working environment and efficiency. In its first year of operation, this automatic system has led to cost savings for not only Greif, but for our customer. We unloaded more than 1.5 million drums using this system.
As for suppliers, we outline our expectations in our Supplier Code of Conduct. We evaluate each of our top 20 suppliers on a scorecard that considers quality, delivery, cost, value-added services, environmental and technical support. Sustainability criteria, such as material reduction, use of lower environmental impact materials and supplier sustainability initiatives, are part of this supplier scorecard.
We have also assessed the ESG performance of our top 25 suppliers by revenue through EcoVadis. We intend to repeat this procedure every three years and track progress.
Our Sustainable Procurement Team evaluates opportunities to minimise material use and finds more sustainable raw material alternatives. The team, made up of colleagues from each region, evaluates opportunities across the globe and works to share best practices in sustainable sourcing with the Global Procurement Team.
We also work to identify and implement chemical substitutions in our products and operations to remove and reduce hazardous waste. Since 2015, we replaced 10 percent of steel coil material volume and high volatile organic compound (VOC) exterior paints with water-based paints within our operations. We use safer alternatives in many of our products, including our Tri-Sure Vreeland linings and our water-based acrylic paints.
Tim Sykes
Are there any big sustainability bottlenecks (beyond Greif's unilateral control) that you'd like to see eliminated through innovation or changes in systems or governance?
Aysu Katun
Limited waste and carbon emissions regulations and incentives can slow down the progress that can be made on sustainability by corporations. We are seeing that in regions where there are more governmental regulations and/or incentives, we are able to make significant progress in waste reduction, recycling and reuse, and emissions reductions. Collaboration between corporations, NGOs and governments can accelerate the progress that is much needed.
While the topics of circular economy and plastic waste are gaining momentum, companies are still moving slowly when it comes time for commitment and action. For example, in NA we are seeing an oversupply of PCR which signals that companies are not yet developing products with PCR. We are seeing a similar slow momentum when it comes to reconditioning.
Companies are challenged with balancing their commercial targets with sustainability goals, which can make progress slow. However, this also signals that there are opportunities to further embed sustainability into our organisations and a need to think about creating value not only in the short term but also in the long term.