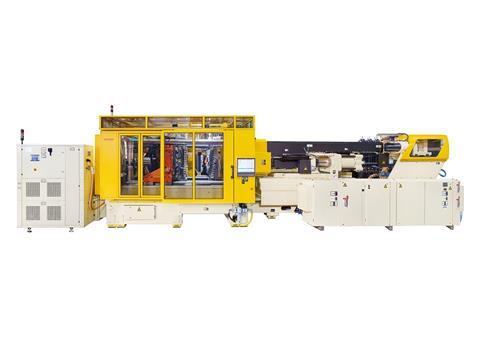 As a leading industrial technology provider to the plastics processing community, Husky understands that market conditions and consumer demands are constantly evolving. The company is committed to helping its customers find ways to better respond to these changes through the development of digitalized end-to-end manufacturing processes, flexible, scalable molding solutions and more sustainable packaging options.
Focused on a wide range of plastic applications within a variety of markets, including food and beverage packaging, general plastic packaging, medical, automotive, and home, beauty and personal care, Husky will be demonstrating its industry-leading injection molding solutions on its booth located at A61, Hall 13.
For the first time, Husky will be running its new HyPET® HPP5e system, designed to deliver better energy savings, system reliability, preform quality and user friendliness. The system will be producing preforms made from 100 percent recycled PET.
Showcase of Husky's broad portfolio of both proven and new tooling technologies that help customers achieve maximized value, productivity and flexibility, including Husky's new NexPET™ Mold, which is a flexible mid-volume tool for shorter production runs and frequent changeovers.
Introduction of a versatile, energy-efficient platform of PET preform molding solutions that are engineered to handle any application and production need.
A preview of Husky's Next Generation Operating Model (NGOM) digitalized end-to-end manufacturing system that offers enhanced capabilities to deliver solutions with unmatched speed and flexibility and enables customers to more quickly respond to changing consumer trends.
Husky will be highlighting its various solutions that support the circular economy and customers' sustainability goals. Husky is committed to developing sustainable packaging solutions, and with its industry-leading position and track record of innovation the company can make a positive impact in aligning the goals of sustainability with the many positive attributes of plastic packaging.
Spotlight on the latest hot runner and controller developments, including Ultra Helix™ 250 T2 valve gates, which are designed to improve part quality and maintain superior gate quality for millions of cycles for small parts with difficult to access gate locations. Also displayed will be the latest family of Altanium® Mold Controllers, providing the most accurate temperature, integrated servo and valve gate control in the industry.
Introduction of Husky's new online spare parts ordering portal, which will be available for a demonstration on the booth.