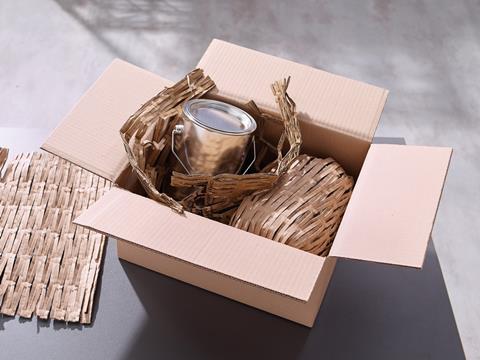 HSM GmbH + Co. KG, the southern German manufacturer of baling presses, PET solutions and document shredders will be at the FachPack exhibition (hall 4, stand 229) from September 24 to 26 to showcase its product solutions for the packaging industry.
A novelty is the vertical baling press HSM V-Press 860 plus B. Thanks to the wide feed opening of 1500 mm, it produces particularly large, highly compressed bales of cardboard or foil which can be marketed without further pressing. With a pressing force of 594 kN and the low-noise and energy-saving rapid traverse technology, it is the economical and environmentally friendly solution for many disposal tasks. Thanks to the special HSM TCS (TorsionControlSystem), the inclination of the pressing plate in all directions is continuously monitored. This prevents one-sided loads, optimises the pressing process and thus ensures a long service life and a high process guarantee. The machine is controlled and operated by a modern microprocessor control and a comfortable membrane keyboard with graphic-capable text display, which shows the actual state of the machine. The bales, with the maximum dimensions of 1200 x 780 x 1500 mm, achieve a material-dependent weight of up to 550 kilograms and are held together by a four-fold wire strapping.
The HSM ProfiPack P425 packaging machine will also be presented at the HSM exhibition stand. It cushions used cardboard and turns it into universally applicable, new packaging material. Besides reducing costs, this is a sensible and practical contribution to environmental protection – a perfect solution for all areas of delivery and storage. Cutting and padding are done in a single step – no time-consuming pre-cutting of the cardboard is required. The measurement scale on the device allows easy, infinitely variable adjustment of the working width. The finished packaging padding can be used for the perfect protection of the most diverse objects: as a padding mat, a padding wrap or for filling hollows. The HSM ProfiPack P425 is a standalone unit with castors and a parking brake. The device can be used flexibly, thanks to the 230-volt connection.