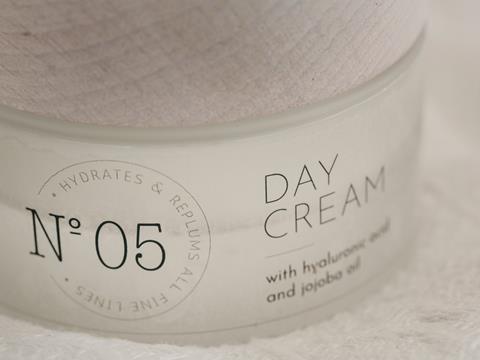 In this edition of the Spotlight, Fedrigoni walks us through its range of self-adhesive packaging solutions that aspire for industrial circularity alongside a reduction in waste and emissions.
Reducing waste is one of today's biggest economic and industrial challenges: achieving a more sustainable future requires conscious choices. As Fedrigoni Self-Adhesives we pay attention to this aspect at every stage of the entire production process – from a platform that eliminates typical label industry waste (siliconized trims and liners) at the source, to packaging that allows for more efficient recycling, to materials that facilitate access to reuse platforms.
As a result, we not only aim to generate less waste, but also try not to generate waste at all, where possible. Our range also includes solutions with low environmental impact based on the use of raw materials with recycled content.
Cosmetics and home and personal care products demand quality solutions that offer reliability over time. We can offer the most suitable solutions for every need, by combining sustainability and aesthetics, to guarantee best-in-class functional characteristics.
Our technological tools and our worldwide presence allow us to meet all needs with the wide range of self-adhesive materials we produce, suitable for all types of packaging, from cream packs to flexible containers (for shampoos and shower gels); from perfumes to any other cleaning and hygiene product.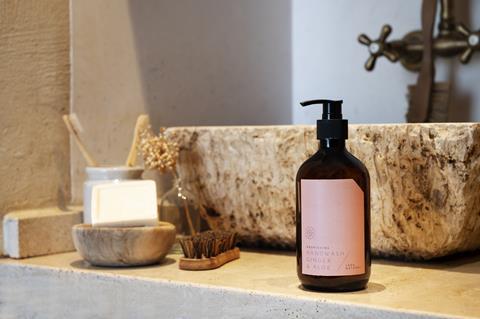 From waste to premium label
Once again, when the adhesive material is separated from the siliconized support (the glassine liner), this isn't thrown away anymore: the revolutionary solution is the first of its kind in the world. The liner returns to the production process part of the adhesive facestock, to create new premium labels.
The project is the result of a path undertaken by the Fedrigoni Group, which has among its objectives waste reduction in landfills and a 30% reduction of CO2 emissions. Siliconised paper not only represents half the weight of self-adhesives but is above all a high-quality material, made with pure fibers, with precious mechanical characteristics.
Fedrigoni Self-Adhesives has decided to offer a collection service directly on its users' premises, providing them with specific boxes where they can collect the glassine. Later, through a particular process of re-pulping with the addition of white waste paper, the liner returns to the production cycle and acquires value, avoiding the creation of thousands of tons of waste, and their expensive disposal procedures.
The Re-Play™ range is a concrete example of upcycling, where the final material has a greater value than the original one, following a circular economy model that leads to less waste and reduced energy consumption.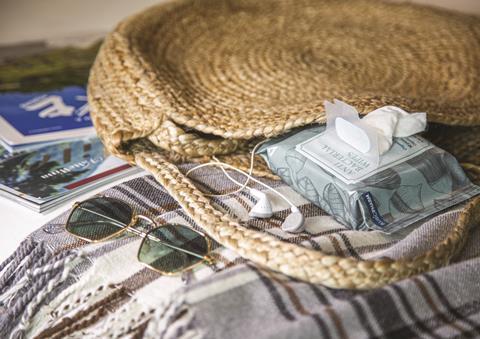 Mono-material approach
A very important trend at an industrial level is that of producing and offering the market packaging made up of a single type of plastic material, to favor an optimal recycling process. This kind of approach makes wet wipes packs fully recyclable. "Open and Close" is a range of self-adhesive materials specially developed for the segment of flexible and semi-rigid labels for the packaging of cosmetic, hand, baby, household, and pet wipes.
The range includes mono-material solutions (in PP and PE), perfectly suited to this need, for both flexible and semi-rigid resealable labels. With their excellent adhesive technology and thicker face materials, Open & Close semi-rigid labels facilitate the correct and repeated opening and closing of the package, keeping the wipe moist and easy to use. These self-adhesive materials have been specified and tested to ensure high resistance to repeated use, even if the adhesive of the label is exposed to the content, without releasing any trace of adhesive on the packaging. They are a valid alternative to the rigid plastic lids commonly used for this type of product; being thinner and lighter, they reduce the amount of waste.
Transforming waste into a resource
Usually, when the liner (the siliconized support on the back of the adhesive) is separated from the label, it is thrown away or, in the best case, recycled. Ours becomes a front lamination layer. It is an innovation in the field of sustainable self-adhesive labels, turning the liner into a protective part of the label.
This solution not only avoids waste generation, but also reduces weight, material, storage, and transport emissions. Typical applications are bath and shower products, oral hygiene, personal care, aftersun, self-tanning, and sunscreen products.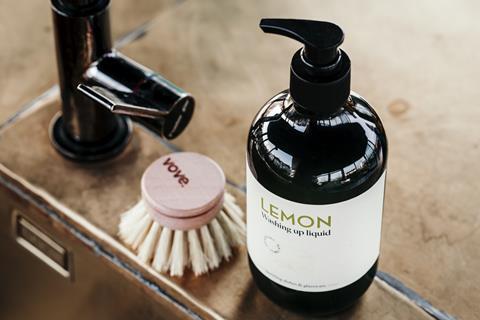 For easier recycling
This range of polypropylene self-adhesive materials is designed for producing labels to enable the recycling or reuse of packaging, meeting the most stringent requirements for the recycling of PET packages.
Thanks to the specific formulation of the adhesive, the polypropylene label fragments can be easily detached from the PET flakes during the recycling process, so that they can be collected and recycled to produce high-quality recycled PET. Common applications for these labels are bath and shower products, oral hygiene, and baby, skin, and hair care.
The Fedrigoni Group's attention to environmental impact is a priority: the ESG roadmap is fully oriented to achieve the 2030 sustainability goals.
Discover more about our solutions for home & personal segment: https://selfadhesives.fedrigoni.com/industry/beauty-personal-care/
Discover more about our sustainable solutions: https://selfadhesives.fedrigoni.com/sustainability/sustainable-solutions/
This content was sponsored by Fedrigoni.