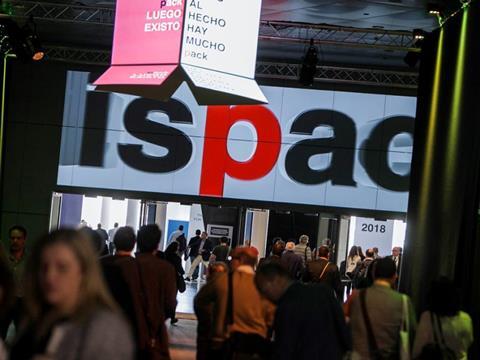 Hispack is preparing an edition marked by growth in line with the strong performance shown by the packaging industry, which is rapidly consolidating its recovery.
From 8 to 11 May, Hispack will host the largest packaging ecosystem in the Iberian market, adding process and logistics to its offering and activities, showcasing world-class innovation and attracting professionals from different sectors that are users of package and packaging solutions. Thus, the show expects to bring 700 direct exhibitors to three halls in Fira de Barcelona's Gran Via Exhibition Centre in 35,000 square metres net of exhibition space, which will mean a 15% growth in the number of stands and a 12% growth in the area occupied compared with the last edition three years ago.
With six months still to go, the prospects are excellent, as Hispack has exceeded the area occupied in 2015 and, at this moment, has confirmed the presence of 500 direct exhibitors from 19 countries.
Hispack will be offering bespoke packaging, processing and logistics solutions to manufacturers and distributors of food, drinks, chemicals, pharmaceuticals, cosmetics, perfumes and drugstore products among other industrial and consumer sectors.
At the same time, Hispack will once again share its dates and venue with FoodTech Barcelona, the new name for the trade fair for food industry technologies that will be showcasing every aspect of food manufacturing. Food industry professionals will be able to find solutions at this double trade fair, to everything from ingredients to production processes via packaging and arrival at the point of purchase.
Javier Riera-Marsá, President of the Organizing Committee, explains that Hispack 2018's proposal "offers a strategic, multidisciplinary approach to packaging that encompasses its entire life cycle and its interconnections with other processes and with the supply chain, and also involving different professional profiles".
Thus, Hispack 2018 will present packaging as an economic driving force and a key ingredient in industry's digital transformation, putting the spotlight on four major challenges that the package and packaging industry needs to address: sustainability, automation and digitisation, logistics and user experience. These challenges will be reflected both in the trade offering and in the programme of activities.
A broader offering and internationalityAs is customary, the sectors specialising in machinery and accessories used to manufacture packages and packaging and processing, bottling or coding and marking equipment make up more than half of the show's exhibitors. However, this year, Hispack is promoting particularly the presence of raw materials, logistics and automation suppliers, which already account for 40% of the confirmed stands. There is also strong growth in the presence of companies in the Premiumpack area, reserved for suppliers of materials, finishes and packaging for mid to top-of-the-range products, particularly in the gourmet food, beverages, cosmetics, perfumes and pharmacy segments. POS, engineering, consulting and services companies, associations and organisations, and also recovery and recycling firms complete the show's trade offering.
At the same time, Hispack plans to grow in internationality, with almost one third of its direct exhibitors coming from abroad. After Spain, the country that is contributing most companies so far is Italy, followed by Turkey, Germany, France, Holland, Portugal and China.
The presence of more international brands confirms the renewed appeal of the Spanish packaging market for its dynamic demand and Hispack's role and capacity to draw professionals from other markets abroad that are geographically and culturally close to Spain, mainly from Europe (led by Portugal), Latin America and Mediterranean countries.
As Xavier Pascual, the show's manager, explained, together with FoodTech Barcelona, Hispack is undertaking direct promotion activities in 14 countries (Chile, Colombia, Mexico, Peru, Algeria, Morocco, Tunisia, Turkey, Poland, Portugal, France, Italy, Germany and the United Kingdom), to identify buyers with specific projects that could be invited to the show. It is also organising trade missions in another 7 markets with growth potential (USA, Argentina, Iran, India, Indonesia, Thailand and Ghana). The aim is to attract about 4,000 foreign professionals to the show. Together with FoodTech Barcelona, Hispack expects to exceed 38,000 visitors in total.
New content generated from shared knowledgeIn order to encompass the entire packaging ecosystem, Hispack has formed four collaborative task groups for each of the main challenges defined for this year (sustainability, automation and digitisation, logistics and user experience), whose members include more than 45 experts among representatives from the supply, demand and industry organisations. According to Xavier Pascual, these groups perform a two-fold function: "on the one hand, to define Hispack's value proposition in each of these areas and, on the other hand, to build with us Hispack's programme of activities, giving tangible form to packaging innovations and knowledge and offering answers to the needs raised by the demand sectors and also by very diverse professional profiles".
Hispack will also include the Graphispag area, which will show the latest contributions by the printing industry to the packaging world. Here, suppliers will show examples of printed applications and specific finishes for packages, packaging and POS, together with graphic services companies.
The show will also have a Lecture Corner specialised in packaging and retail, run by the Graphispack Asociación, where experts will talk about trends, success stories and solutions. In addition, the award-giving ceremony for the recently decided Liderpack Awards 2017 will be held as part of Hispack.
Lastly, Hispack has signed cooperation agreements with some 50 professional associations, clusters, technology centres or foundations from around Spain that represent the transversality of the packaging industry, from both the supply and demand sides. The aims is to structure an ecosystem that encompasses innovation, industry and market and facilitating knowledge exchange and professional networking, not only during the show but also between editions through the Pack Experience agenda.
More info: