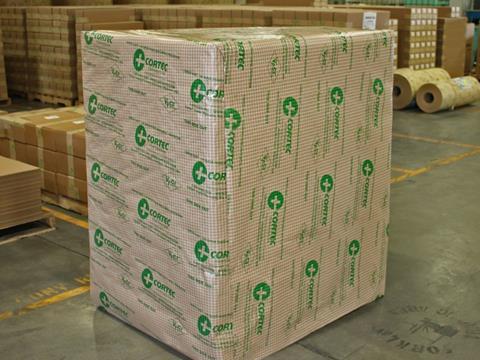 High-tech VpCI® and EcoSonic® custom converted papers in rolls and sheets are now available from Croatian EcoCortec® plant just in time in any quantity from 100 to 1,000,000 sheets.
This will enable shorter lead time and the products to be more cost efficient for our European customers.
Paper sizes available in plant's stock range from minimum 50mm x 100mm sheets to maximum 1200mm x 1150mm sheets. EcoCortec's premium corrosion inhibiting papers in the industry provide superior corrosion protection for both ferrous and non-ferrous metals. Being fully recyclable/repulpable they eliminate the need to inventory a variety of papers for each of the metals you need to protect making them highly economical solution. VpCI® Papers prevent package contamination by utilizing only the highest quality neutral natural kraft (NNK) paper. Outstanding properties of VpCI® papers are making them most desirable solution currently on the market. Cortec® EcoSonic® papers also combine corrosion inhibiting and static-dissipative properties. All Cortec® VpCI®papers are extremely simple to use: There are no complicated calculations of chemical concentrations or application systems to maintain. Products can be used immediately – no surface preparation or cleaning is required. All Cortec® VpCI® papers are environmentally safe and non-toxic.
Papers provide excellent alternative to oil coatings or other VCI/VPI papers that often contain inferior chemicals. They provide exceptional protection for dry or oiled metals during storage, transit, and overseas shipment. Cortec's team of professionals has designed papers for huge variety of specific applications. When shipping sensitive electronic components, EcoSonic® ESD Paper powered by Nano VpCI® provides both corrosion and electrostatic discharge protection. In cases where extra moisture is the concern, EcoShield® VpCI®-144 Super Barrier Paper serves as a recyclable alternative to polyethylene and waxed papers. Many more specifically designed papers are available from Cortec' range. All papers conform to highest world standards.
More info: