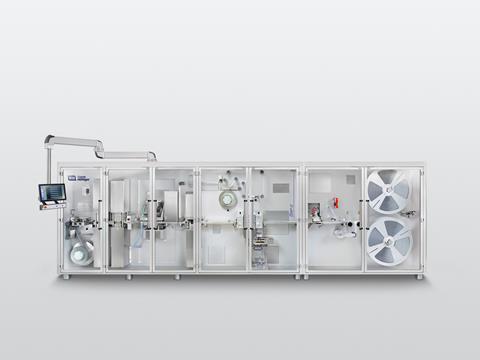 Whether in a virtual environment or as a real exhibit: Harro Höfliger presents trends at the interpack 2017. Booth number B15 in Hall 16.
At the interpack 2017, Harro Höfliger Verpackungsmaschinen GmbH is going to show the latest developments from its extensive portfolio. In addition to new administration forms such as a convenient nasal applicator filled with thixotopic oil and the XStraw®, consisting of a drinking straw with a pre-portioned drug, many other technical production solutions will be demonstrated as well. Furthermore, for the first time, Harro Höfliger presents the new machine design for turn-key solutions.
Immerse yourself into digital spaces
For the visual demonstration of their machine design and processes, long before manufacturing begins, the specialist for customized production and packaging machines relies on the digital possibilities of Virtual Reality. In the midst of a virtual environment, trade show visitors can experience, for example, the filling and assembly of DPI-inhalers, the filling of IV bags or the assembly of pens along with the packaging processes. Harro Höfliger is also addressing the huge digital trend of augmented reality at the trade fair. Scanning the codes on a tablet with the capsule filling machine Modu-C MS will provide you with useful additional information and illustrations – convincing added value for purposes of training, maintenance and service.
Turn-key – from a single source, optically from a single cast
New dynamic design for proven technology: Harro Höfliger's turn-key production and packaging solutions will now have a distinctive look with a strong recognition factor. The PMK and MKC line, presented at Interpack, combines web processing, bag packaging and continuous cartoning of the wound dressings produced. Two machines from a single source – with this, the turn-key specialist provides proof of their competence at the trade fair. The MKC can also be experienced as a virtual reality application.
Lab to Production
LabScale Equipment is a trend topic for which Harro Höfliger has been offering an extensive machine and service portfolio for many years. The company supports and assists their customers from the laboratory to the production phase in order to scale processes efficiently, economically and with the smallest possible risk. With the laboratory device Drum Lab, Harro Höfliger is going to present a semi-automatic powder micro-doser with drum filling technology, which is suitable for a large number of containers over and above capsules and cartridges. The Disc Filler, a semi-automatic dosing system for laboratory and galenics, enables the precise filling of DPI discs. It can be integrated into automated machines to fill, assemble and package disc-base inhalers and increase the output by adding additional filling heads. Harro Höfliger has developed the new LabScale machine MLS for assembly of pens and auto-injectors.
Manufacturing Devices across all levels
An example for the successful scaling of processes is the semi-automatic pilot line Maxima LS for the filling and sealing of the nasal applicator by M et P Pharma: From the initial liquid dosing trials using a laboratory pump, the process was further developed into the high-capacity machine Maxima HS. With the prototype, sample products for clinical studies are manufactured.
Fill Quantity Control using X-Ray Technology
Another highlight presented by Harro Höfliger is the use of an X-ray module for the 100 percent fill quantity control of sealed inhalation blister strips. The technology is demonstrated at the fully automatic Blister Machine SSP2, a production machine for small batches. In contrast to destructive control methods, this module is a reliable in-line alternative enabling fast trend regulation during the dosing process.
Containment for Capsule Filling
The containment solution for the Capsule Filling Machine Modu-C LS (Low Speed) guarantees the protection of people and the environment in pharmaceutical development and in small series production. The smallest member of Harro Höfliger's Modu-C family has an output of up to 25,000 capsules/h, and offers entry possibilities into the fully automatic filling of capsules. The ergonomic design of the Modu-C LS in a containment version ensures optimum accessibility and simple, fast cleaning.
Highly Flexible Capsule Filling
The more efficient Capsule Filling Machine Modu-C MS (Mid Speed) will be demonstrated at the trade show with both a powder and a micro-tablet dosing station. Harro Höfliger's flexible trolley system allows for a fast changeover of the filling units. The powder station with drum dosing is equipped with an AMV-sensor for the fully process-integrated control of the dosed masses. The high-speed Capsule Weighing Machine Accura-C ensures the 100 percent weight control for the filling of micro-tablets.
Universal tray concept for surgical suture material
One solution for a variety of needle-thread combinations: Developed by DS Technology, the XTray is a universal carrier for surgical suture material. Harro Höfliger's advanced technology ensures reliable processes from arming and winding, application of the lid to individual printing and packaging.
Service portal for comprehensive customer service
Harro Höfliger's customer service provide dedicated support aimed at maintaining the performance of production and packaging equipment throughout its life cycle and improving efficiency wherever needed. The joint service portal of Excellence United enables rapid assistance via remote diagnosis and conference call.
Presentations and shows
Harro Höfliger's trade fair exhibit not only features impressive technology, but is also quite entertaining, offering presentations and exciting shows with "human robots" several times a day.
More info: www.hoefliger.com