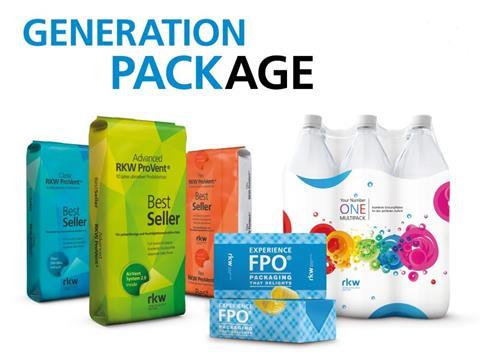 RKW presents its Generation PackAge portfolio including films, nets and also nonwovens for a broad range of applications at this year's FachPack in hall 9, booth 9-310.
RKW's Generation PackAge products include films, nonwovens and nets that are tailored to meet the requirements of both customers and end consumers in terms of efficiency, convenience, product protection by extending shelf life and improving transport protection, and sustainability.
The Generation PackAge portfolio encompasses multipack films for the beverage and food industry, diverse household products such as waste bags, base material for the production of labels and tags, FPO® paper-like films with a high mineral fill of more than 50%, and nonwovens for packaging applications (RKW HyJet®). Transport and pallet protection films, in particular stretch-hood films, ensure safe transportation of customer products. Plastic sacks for powdery goods, barrier and lamination films as well as pallet nets complete the offering. The product range is as broad as the industries and application possibilities.
Sustainability is one of the most important topics in the plastic industry, especially in the packaging market. This not only applies to the material used to make the packaging, but also to its entire life cycle. In all phases of a product's life from its inception to the end of its life, RKW strives to protect natural resources, to reduce emissions, to avoid waste and environmental pollution, and to optimize logistics.
RKW meets the challenge of combining product protection, convenience for the consumer and eco-friendliness by smart packaging concepts based on innovative technology. Film thickness reduction, for example, helps to save resources: less material usage, less waste and less transportation. The film thickness, and thus the hood weight of RKW's shrink-hood films, which protect pallets and goods to be conveyed, was reduced over the past 25 years by 40%, and RKW's stretchhood films achieved a reduction of raw material consumption of 30% over the past 15 years.
RKW multipack films feature convenient and easy opening for consumers, as well as high performance and outstanding printing quality for our customers. RKW has now developed multipack films, which can be digitally printed with the HP Indigo system without the need for a primer, as required with conventional films. The newly-developed film without primer is a mono material and can therefore be easily recycled. Moreover, the quality of the recycled material is better than that of multipack films using primer.
RKW's mono material FPO® for aluminum-free wrapping of butter and other dairy products is made from polymers and more than 50% mineral fillers. The clever combination of materials ensures that, correctly converted, the package protects sensitive products effectively from light, oxygen, and water vapor. It features outstanding printability and a pleasing, paper-like look and feel. Moreover, thanks to its high mineral filler content, less polyolefin is used compared to traditional packaging options, thus helping to save resources and to reduce the carbon footprint.
RKW ProVent® is RKW's innovative self-venting packaging solution that keeps powdery goods safe and dry. Customers profit from a range of benefits including a significantly extended storage life, robustness, tear resistance, safe outdoor storage, and clean handling. At the same time, RKW ProVent® sacks are much more environmentally friendly than paper sacks, consuming 14% less energy than paper sacks during production. As no composite materials are used, these bags can be easily and completely recycled.Recently, RKW launched the first T-shirt starseal waste bags for organic waste that are fully compostable and consist of more than 50% from renewable materials. The bags are certified according to the European standard EN13432 by the DIN Certco institute in Berlin (Germany). Combining practical features with benefits in terms of sustainability, the new bags are an environmentally friendly alternative that makes the disposal of organic waste much more convenient.