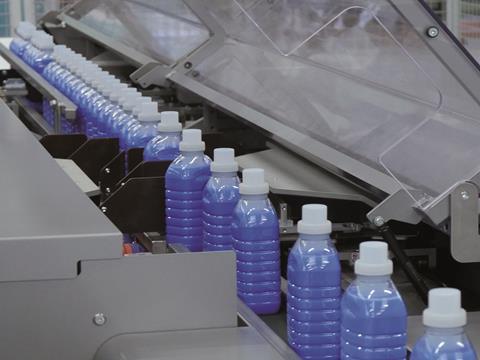 Goglio designed the GCap6 automation system carefully selecting solutions and control systems and choosing a particularly user-friendly programming environment, for an easier software development. Furthermore the reduction of installation and start-up training time, the easier identification of problems, testing and validation are some of the advantages that characterize GCap6.
All devices are connected via Ethernet/IP by facilitating communication within the control network. The machine can also be accessed remotely and production data (such as recipes, batch numbers and production quantities) can be directly sent to the machine. The customer can potentially collect an infinite number of parameters and analog/digital data that can be used to implement predictive maintenance.
Modularity
Gebo Cermex took home the prize in the 'Modular' category, thanks to its patented CareSelect™ universal and modular shaped-bottle infeed and collating system for robotic or traditional case packers. Once again powered by Rockwell Automation's iTRAK® technology, CareSelect™ can achieve speeds of up to 400 products per minute depending on package size, shape and weight, easily surpassing traditional 'endless screw' collation systems in terms of bottle integrity and protection. The system delivers shaped bottles to the packing machine with precision and care in the correct orientation and pitch, turning each bottle 90°. Even unstable products are smoothly and individually handled via independent movers. To eliminate contact between products, flow is managed without accumulation at the infeed and 'friction time' between the bottle and the system - when the bottles come into contact with machine parts - is dramatically reduced (by at least 20 times) compared to traditional infeed systems. It also offers fully automatic changeovers in less than one minute, with no need for mechanical adjustments.
Commenting on the win, Marc Aury, president and MD of Gebo Cermex, said: "We are naturally delighted to receive this global recognition by a jury comprising some of the world's leading brands. This demonstrates we are rightfully placing our emphasis where it matters most: to bring Smart Factories to life, to create a world of greater choice and unique consumer experience driven by packaging mass customization and product diversity."
The final category of 'Traceability and Product Safety' was awarded to SN Maschinenbau's FM 200 pouch packaging machine, whose communication capabilities was designed with Industry 4.0 in mind and offers data-capture possibilities for traceability.
Commenting on the judging process, one jury member explained, "This was an incredibly tough competition to judge as some of the machines impressed us across multiple areas. It is obvious to see that innovation is alive in the packaging industry. I am convinced that some of these machines will quickly establish themselves as class leaders."