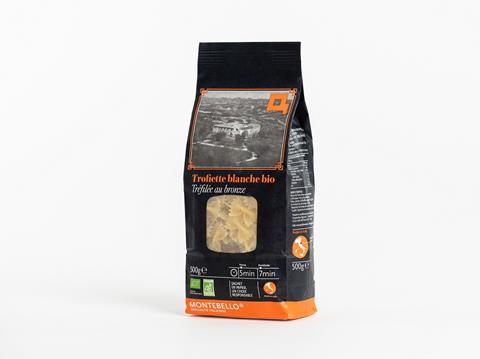 Mondi, a leading global packaging and paper group, and Fiorini International, a leading converter in the field of form-fill-seal applications, have successfully launched a fully recyclable, paper stand-up bag with a window onto the Italian food market.
Pasta producer Girolomoni is using the new paper packaging solution for its organic "Graziella Ra" ancient wheat spaghetti, farfalle and penne rigate.
Pasta bag producer Fiorini International was looking to replace plastic packaging with a paper alternative that set itf apart from the competition. Moreover, the solution needed to ensure the highest standards of product quality, while still meeting strict paper waste stream requirements. Featuring Mondi's Advantage Smooth White Strong speciality kraft paper made of 100% virgin fibre offering high strength and superior prinatability, the new packaging is suitable for waste paper recycling streams – even in countries with the highest recycling requirements.
Pietro Fiorini, Sales Director Packaging Division at Fiorini International, explains: "We wanted to provide our customers with a paper-based solution that would satisfy the rising demand for sustainability from end-users, and enable food producers to grow in new markets. So we were looking for an alternative to plastic that looked good and provided products with the same protection properties. Our unique sealing technique also needed a special kind of paper. Mondi's 110 gsm Advantage Smooth White Strong was the optimum fit for our needs. The high paper quality is easily convertible into our pasta bags which is essential for the industry. Thanks to our creative collaboration with Mondi, we have the perfect partner for our pasta bag. Together, we are now looking to redefine packaging for sugar and flour as well."
Massimiliano Scotta, Head of Sales Region South & Americas at Mondi Speciality Kraft Paper, adds: "EcoSolutions is our customer-centric approach to support our customers to achieve their sustainability goals. We worked closely together with Fiorini International to determine their sustainability, packaging and recyclability criteria. Our team tested several paper grades for strength, stretch and forming processes at our R&D facilities and collaborated with key partners to obtain food contact certifications that meet all of Fiorini International`s packaging needs. The result is the sustainable stand-up bag made from Advantage Smooth White Strong paper and featuring a large transparent paper window, both of which are completely recyclable. At Mondi, we want our products to be sustainable by design and we consider this a win-win situation, since it benefits our clients and the environment."