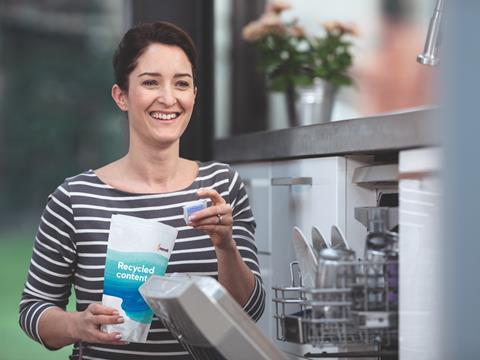 In the latest edition of the Spotlight, Mondi details the ways in which it tackles obstacles to utilise post-consumer recycled content in its packaging solutions – including bespoke films for a variety of applications – and contribute towards the wider pursuit of sustainability.
PCR plastic content, or post-consumer recycled content, has emerged as a viable solution for companies looking to transition to more sustainable plastic packaging without sacrificing important features. Packaging must meet a variety of requirements, including convenience, safety, and effective barrier protection, while also being cost-effective.
The use of PCR content helps promote the circularity of plastic packaging and decreases the need for virgin materials to be extracted and processed. The benefits of using PCR content are many and include environmental benefits and regulatory compliance. Over the last two years, the plastics recycling industry has made significant progress on several fronts to address some of the challenges that have kept brand owners from incorporating PCR plastic in their packaging, including material quality, lot-to-lot consistency, and material availability.
While there is still much work to be done to overcome these multi-faceted challenges, the momentum has never been greater. Solutions require the concerted action of the entire industry, including the entire supply chain and recycling infrastructure, and begin with the adoption of design-for-recycling criteria by the entire industry and advances in collection, sorting and recycling technologies.
Mondi has taken the challenge head-on. As a leading global sustainable packaging and paper company, we are focusing our resources to solve the challenges associated with PCR content and using our know-how and integrated supply chain to introduce PCR into our packaging solutions. We have the expertise and capabilities to use both mechanically and chemically recycled content in our plastic packaging solutions, such as those for the home and personal care industries, as well as food and pet food applications.
Because we control the recipes of our resins and extrude our own films, we can develop the films to meet our needs, including the type of PCR and the level of performance required by the customer to create a fit-for-purpose packaging solution for their product. We closely collaborate with our customers to support them in achieving their sustainability goals and deliver regular orders of mono-material packaging solutions with recycled content for a range of applications. In a project with Essity, for example, we have been able to improve the carbon footprint of its global feminine care packaging by using post-consumer recycled content and renewable material .
PCR content is becoming increasingly important as regulations demand a sustainable end-of-life for packaging and customers call for a more sustainable packaging for their purchases. The use of PCR content demonstrates our commitment to sustainability, and we comply with environmental standards and regulations for our packaging solutions. Mondi has also invested in research and development laboratories, including food safety, to ensure that the PCR content used in our packaging meets the highest safety and quality standards.
In conclusion, PCR content is an important aspect of packaging sustainability. Mondi is breaking new ground by introducing PCR content into our plastic packaging solutions and supporting our customers to achieve their sustainability goals. The benefits of using PCR content are numerous, and the more companies use PCR content, the more sustainable the industry can look to the future.
This content was sponsored by Mondi.